O-RAN Alliance has committed to evolving Radio Access Networks (RAN) around the world. Future RANs will be built on a foundation of virtualized network elements, white-box hardware, and standardized interfaces that fully embrace O-RAN's core principles of intelligence and openness.

An ecosystem of innovative new products is already emerging that will form the underpinnings of the multi-vendor, interoperable, autonomous RAN, envisioned by many in the past, but only now enabled by the global industry-wide vision, commitment, and leadership of O-RAN Alliance members and contributors.
As you may know, RIC (RAN Intelligent Controller) is the next generation of SON (Self-Optimization Network) that achieves extreme automation and provide fine-grained, use case-driven control and management of the RAN resources.
Is RIC Real or Just a Buzz Word?
As per an analysis by Analysys Mason for Tier 1 and Tier 2 MNOs, as well as alternative network providers worldwide, to assess the current state of the industry's view on the RIC platform, with a specific focus on the near-real-time (near-RT) RIC. It highlighted the below data points:
Richard Mackenzie at BT: "About 35% of the MNOs in the survey are planning to use the RIC to manage all Open RAN operations, and a further 20% are considering specific Open RAN use cases for the RIC whilst about 31% of the MNOs are planning to deploy the near-RT RIC by 2023, and a further 31% by 2026."
Carlos Ubeda at Vodafone: "About 23% of the MNOs said AI/ML is a critical enabler to automate the near-RT use cases, while about 46% are evaluating the role of AI/ML in near-RT RIC. MNOs chose QoS-based radio optimization, real-time video optimization, and massive MIMO optimization as the top three use cases to use AI/ML."
Vish Ponnampalam at Facebook: "About 68% of the MNOs said portability of xApps across different near-RT RIC platforms is an important or very important capability. Multiple RIC platforms, both open-source, and proprietary will probably emerge from different vendors and ecosystems."
RIC (Non/Near RT) Focus Groups and Areas
There are two working groups focused on the RIC in the O-RAN Alliance:
WG2

: The Non-real-time RAN Intelligent Controller and A1 Interface Workgroup.

WG3

: The Near-real-time RIC and E2 Interface Workgroup.
The RIC customizes RAN functionality by optimizing radio resources according to operator policies. The RIC has an impact on RAN performance in three main areas:
Network Intelligence

: For example, measuring and reporting how the RAN is performing. This generates data, in standardized formats, that can be analyzed (e.g., using AI/ML techniques) to create new algorithms and policies.
Resource Assurance: To ensure that devices/users and services receive the required performance (e.g., via radio link control optimization, handover optimization, or prioritization).
Resource Control: To ensure the RAN system is operating efficiently when multiple user groups may be competing for adequate resources.
RIC Use Cases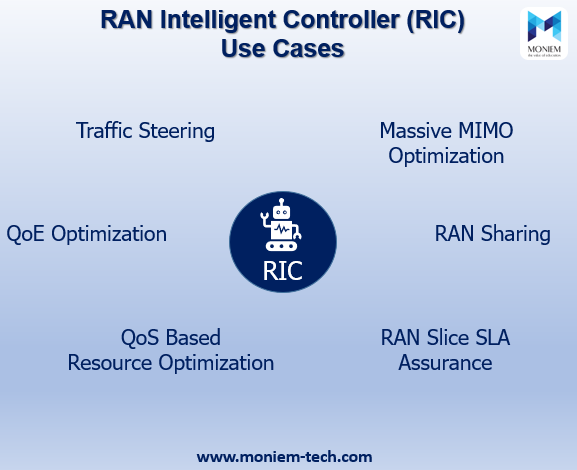 1. Traffic Steering 
Provides proactive load balancing optimization by predicting the network condition and UE performance, The Non-RT RIC configures the desired optimization policies, utilizes the right performance criteria, and leverages machine learning to enable intelligent and proactive traffic steering control. 
2. QoE Optimization 
QoE estimation/prediction from the application level can help to improve the efficiency of radio resources, and eventually improve user experience. Multi-dimensional data, e.g., user traffic data, QoE measurements, network measurement reports, can be acquired and processed via ML algorithms to support traffic recognition, QoE prediction, QoS enforcement decisions.
3. QoS Based Resource Optimization 
Optimize how RAN resources are allocated between users.
4. Massive MIMO Optimization
The objective of the massive MIMO optimization use case is to proactively and continuously improve cell-centric network QoS and/or user (group)-centric QoE in a multi-cell and, possibly, multi-vendor massive MIMO deployment area with multiple transmission/reception points, depending on specific operator-defined objectives. This optimization is performed at different times scales from near- real-time TTI scale to non-real-time.
5. RAN sharing
The objective is to make available RAN infrastructure and computing resources to host the virtual RAN functions of multiple operators.
6. RAN Slice SLA Assurance 
Based on RAN-specific slice SLA requirements, Non-RT RIC and Near-RT RIC can fine-tune RAN behavior to assure RAN slice SLAs dynamically.