The Open RAN concept is about building networks using equipment that separates the vendor-specific software and vendor-specific hardware associated with the vast majority of radio access network (RAN) equipment that is available today from a handful of cellular equipment vendors. Open RAN, then, uses RAN software on commercial, off-the-shelf hardware (COTS).
There are 9 main benefits of Open RAN and categorized into 3 Categories: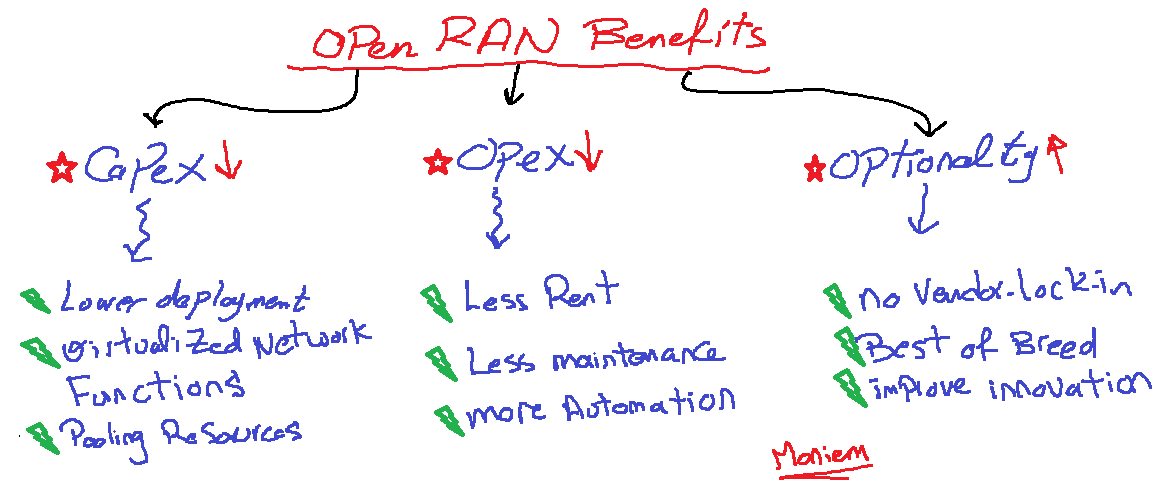 Capex

You don't have to invest your budget in more dedicated HW per function and per vendor, as moving from proprietary HW to Standardized HW will save more Capex and this will be done by decoupling the software from hardware and making pooling resources like C-RAN in edge data centers instead of thousands of sites.

Opex

Instead of taking care of power, electricity, cell hardware maintenance, you have to care for Software Upgrade and invest in developers not for more HW maintenance as shifting to Open RAN will focus more on software and cloud other than HW and the number of sites visit will be less. Besides the space for HW in the cell site will be less that means less rent and power consumption. 

Optionality

By selecting Open RAN, It allows selecting innovative, best-of-breed products more flexibly without the need to fully rely on the vendors who provide RAN by only HW-based own RAN product. 
Conclusion
Open RAN will improve Total Cost of Ownership (TCO) by allowing better control and balance between CAPEX and OPEX investments as virtualized functions will be deployed dynamically according to needs and aligning capacity for demands.