O-RAN's proposed concepts and architectures use a split-RAN concept. There are eight known ways to functionally split the RAN, and each one proposes splitting the processing so that different parts of the protocol stack process on different hardware. The below figure summarizes the eight options:
O-RAN proposes using option 7-2 which splits the physical layer (PHY) into a high-PHY and a low-PHY.
For option 7-2, the uplink (UL), CP removal, fast Fourier transform (FFT), digital beamforming (if applicable), and prefiltering (for PRACH (Physical Random Access Channel) only) functions all occur in the RU. The rest of the PHY is processed in the DU.
For the downlink (DL), the inverse FFT (iFFT), CP addition, precoding functions, and digital beamforming
(if applicable) occur in the RU, and the rest of the PHY processing happens in the DU.

2G, 3G, and 4G use Common Public Radio Interface (CPRI), which is passed on an option 8 split. Moving to the 7-2 split reduces traffic between the DU and RU. O-RAN has specified a version of the 7-2 split. The 7.2x split is the best balance between bringing this technology to market quickly and deployment cost. It reduces confusion about split specifics while making traffic reduction gains and improvements.

Operators must make trade-offs between latency requirements and fronthaul bandwidth availability, especially for the splits 2,8, and 7-2.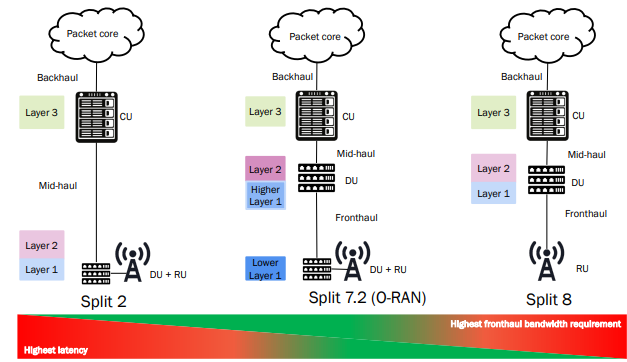 Split option 7.2x