Many of my friends asked me why MNOs (Mobile Network Operators) didn't switch-off legacy networks like 2G and 3G till now. Yes, this is a good question specially day-by-day I am talking about the benefits and the power of 5G.
With the smartphone revolution and the rapid growth in wireless data services, operators worldwide are exploring opportunities to reduce costs or to re-use the 2G/3G spectrum for the more cost-efficient 4G and 5G technologies, by shutting down networks using the older legacy technologies.
So before answering this question, let's start with the Benefits and Risks of eliminating 2G and 3G services from your network as per GSMA.
Key drivers and benefits for Switching Off 2G and 3G
Reform spectrum [Refarm means to empty the spectrum from technology for another one] and deploy the most cost-effective technology like 4G and 5G.

Most 2G systems use the 850, 900, 1,800, or 1,900 MHz, frequency bands.
The sub-1 GHz bands, in particular, are very valuable due to their better propagation characteristics, delivering greater coverage and in-building penetration.

As spectrum below 2 GHz is scarce, the reuse of these frequency bands for new and more efficient technologies is essential in many cases.

Reduce operational costs by increasing capacity with minimum investment.

Meet increased demand for mobile broadband and data-intensive applications from smart devices that mainly needs more data rates which can be afforded by 4G and 5G, not legacy networks.

Potential market and competitive effects for the first mover.

Meet Government expectations of deploying the latest innovative mobile technology.
Refarming spectrum for more efficient technologies is an objective that is generally shared amongst both regulators and operators
Key risks for Switching Off 2G and 3G
Customer churn, particularly when operators do not switch off at the same time.

Many budget smartphones still offered in the market today only support 3G, or 4G data without VoLTE. These are either purchased for affordability reasons or by subscribers seeking less functionality, such as elderly people.

Uncertain demand for new services and capacity.

The cost of migrating M2M connections.

Possible changes in coverage, particularly if the new technology (such as VoLTE) does not provide the same coverage as the replaced legacy technology on the same band, or it operates in a frequency band that does not provide adequate indoor coverage without further network investment.

One reason for maintaining legacy networks is that not all 4G operators launched VoLTE capability or have not achieved VoLTE coverage matching that of 2G or 3G.

Many early 4G deployments did not deploy VoLTE technology when the network was launched.

As such, a 2G or 3G network is still needed to handle voice calls. While data is carried over the LTE network, voice calls

fall back to circuit-switched 3G or 2G networks, which is referred to as

circuit-switched fallback (CSFB).

Additionally, CSFB is used when calling a device connected to 2G or 3G network.
Ongoing calls originating on VoLTE will also need to be handed over to 2G/3G when mobile users move out of VoLTE coverage, which is enabled by the

Single Radio Voice Call Continuity protocol (SRVCC).

Potential brand damage if some customers are left without coverage, are forced to upgrade handsets or large numbers of M2M connections are disconnected for business customers.

A key consideration when disconnecting legacy technologies is identifying feasible alternatives for dependent services. These mainly include:

Voice and SMS services.

Machine-to-machine connections.

Dedicated mobile broadband.

Fixed wireless broadband.
Worldwide Countries that support Shutting down 2G and 3G
In many APAC (Asia-Pacific) markets, such as Singapore, New Zealand, and Australia (shutdown of 2G and 3G networks is being driven entirely by operators), operators have already decommissioned their 2G networks. However, in some Asian markets, the switch-off has been encouraged by the regulator. 
Shutting down 2G networks is the preferred option in the Asia region and North America. However, due to the significant size of the markets for 2G-based M2M and IoT applications, many European mobile operators are planning to retire 3G services before 2G. 
As per Network Strategies, 2G and 3G Switch-Off around the world as below in figure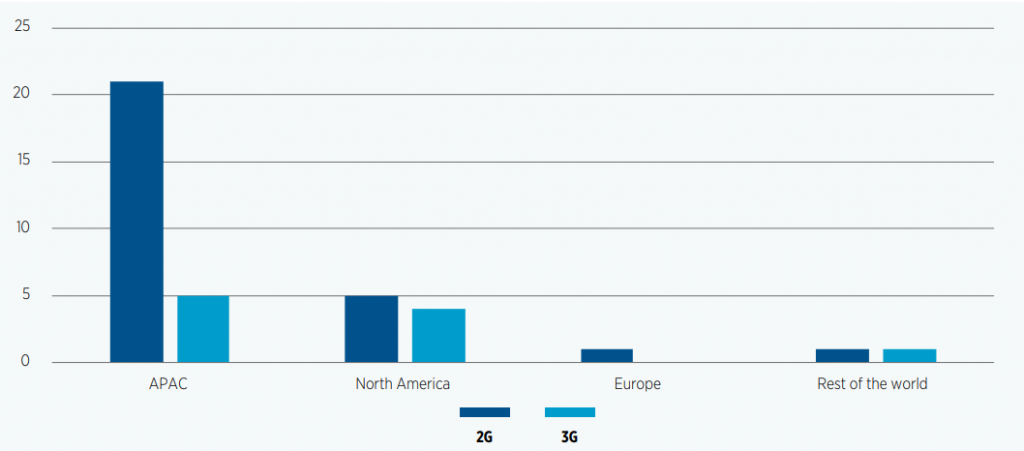 Schedule for 2G and 3G Network Shutdowns in Asia 
As per Telegeoraphy, 2G was mainly specified for voice communications and has limited data capabilities. In response to the growing demand for mobile data, 3G networks were introduced commercially in the early 2000s.
Subsequently, as the rate of growth of demand for mobile data increased exponentially, 4G and 5G technologies offered significantly higher spectral efficiency and higher capacity than predecessor technologies. As 3G and 4G penetration rates reached those of 2G, a number of markets decommissioned 2G, and in some cases 3G networks.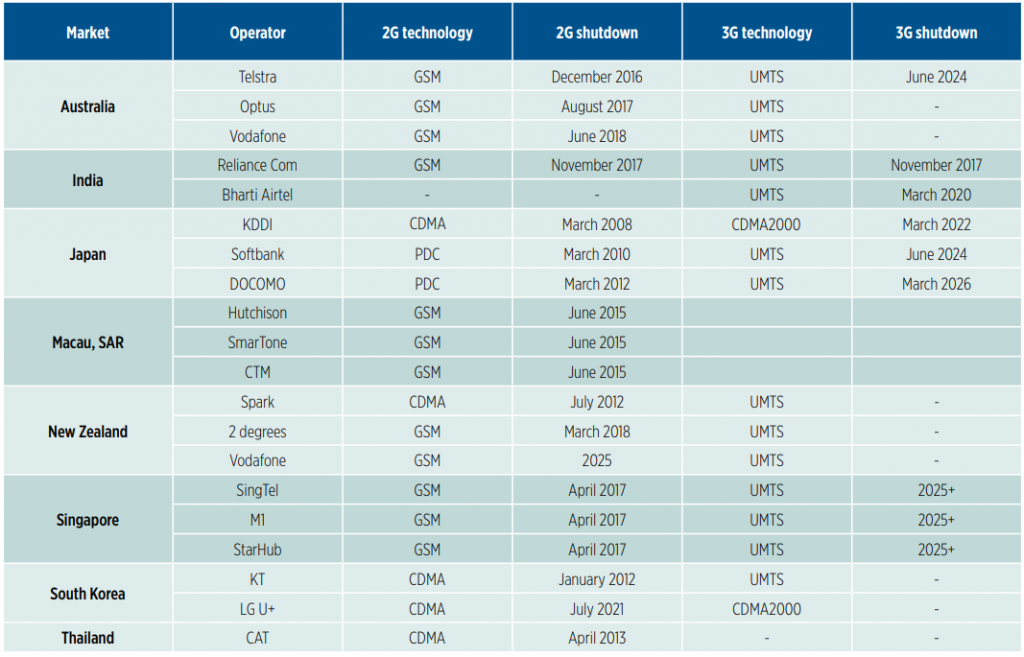 Schedule for 2G and 3G Network Shutdowns in Australia
In Australia, all three MNOs have switched off their 2G services.
Telstra switched off in December 2016, with Singtel Optus followed by August 2017 and Vodafone Australia in June 2018.
In relation to 3G services, Telstra switched off 3G connectivity on its 2,100 MHz spectrum in March 2019. The operator has also announced the eventual switch-off of 3G technology in June 2024.
Vodafone switched off 3G services at 2,100 MHz in 2019 but will continue to operate 3G services on the 900 MHz spectrum.
Singtel Optus has yet to announce 3G service shutdown plans.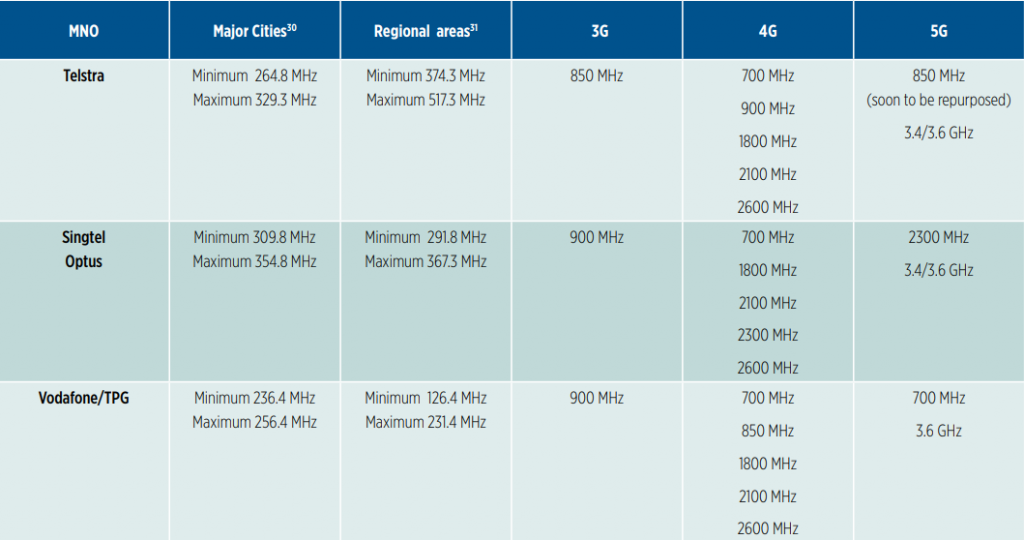 [Update 08th August 2022]: GSA published the last report in July 2022 with the title 2G and 3G Switch-Off and the takeaway from this report is as below: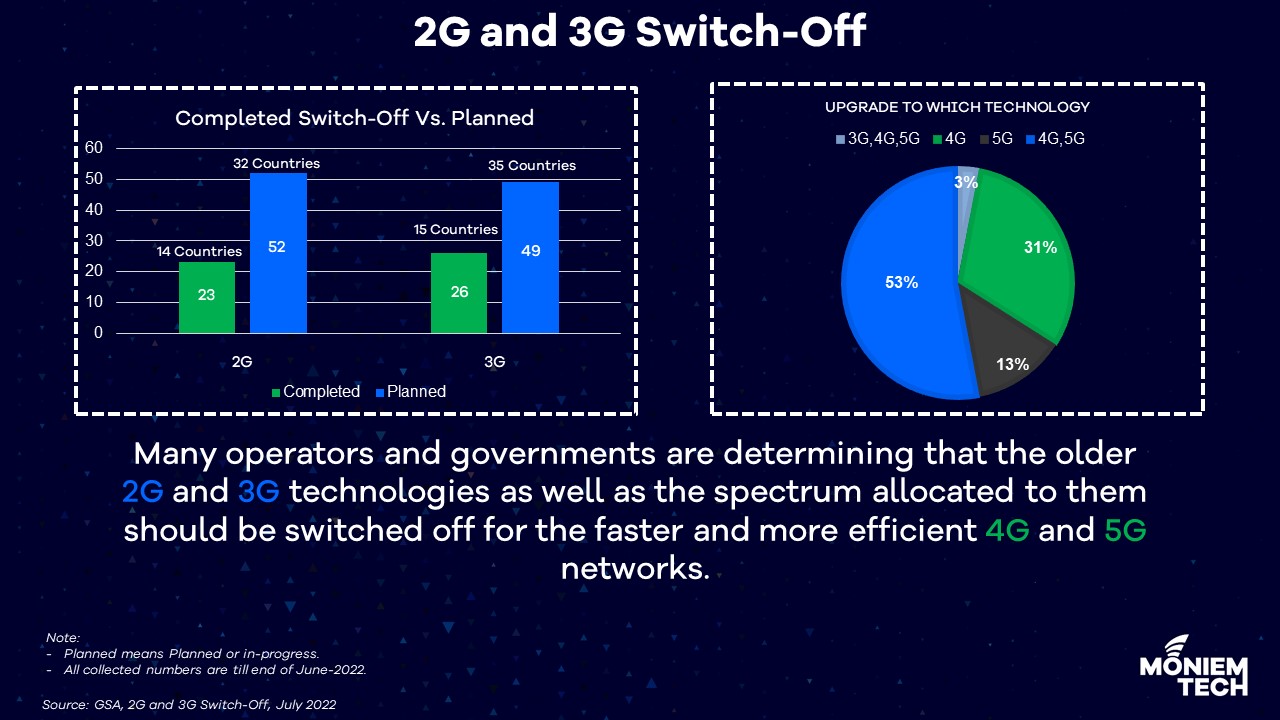 By the end of June 2022, GSA had identified 135 operators that have either completed, planned, or are in progress with 2G and 3G




switch-offs in 68 countries and territories

75 operators in 42 countries and territories have either completed or planned a 2G switch-off

Of those, 23 operators in 14 countries and territories have completed 2G switch-offs

52 operators in 32 countries and territories have planned 2G switch-offs.

75 operators in 40 countries and territories have either completed, planned, or are in progress with 3G switch-offs

Of those, 26 operators in 15 countries and territories have completed 3G switch-offs.

44 operators in 30 countries have planned 3G switch-offs.

5 operators in 5 countries and territories have 3G switch-offs in progress.
Conclusion:
The timing of the 2G switch-off is critical and depends on the 2G penetration of your customer base. Even then it may be necessary to fund a small percentage of 2G customer hold-outs. Going forward into the future planned switch of 3G, 4G coverage with Low Band and VoLTE device penetration are likely to be the key drivers of a successful transition.

In some markets, During the transition process, MNOs found that handset stores were still selling 2G handsets at discounted prices. Even when MNOs were encouraging uptake by giving 3G handsets free of charge to 2G customers, people would sell them and continue using 2G. and this is a new challenge.

The existence of M2M services over 2G was another of the challenges faced during the migration. M2M communications using 2G devices were common among enterprise customers managing fleets and sensor applications. For instance, a taxi company used




2G SIMS for M2M communications for its booking system. 

It is crucial for MNOs to ensure that they have a 2G user base that is small enough to gain government approval.

In order to assist in the transition of its customers from 2G, MNOs should offer discounted data plans to its 2G subscribers to migrate to 3G, LTE, or 5G.