First, We need to know that the most important functional components introduced by O-RAN are the non-real-time (non-RT) radio intelligent controller (RIC) and the near-RT RIC. While the former is hosted by the service management and orchestration (SMO) framework of the system (e.g., integrated within ONAP), the latter may be co-located with 3GPP gNB functions, namely, O-RAN-compliant central unit (O-CU) and/or distributed unit (O-DU) or fully decoupled from them as long as latency constraints are respected.
The RIC incorporates AI/ML into its decision-making functionalities and comes in two forms: near real-time and non-real-time, which can be adapted to specific latency or control loop requirements.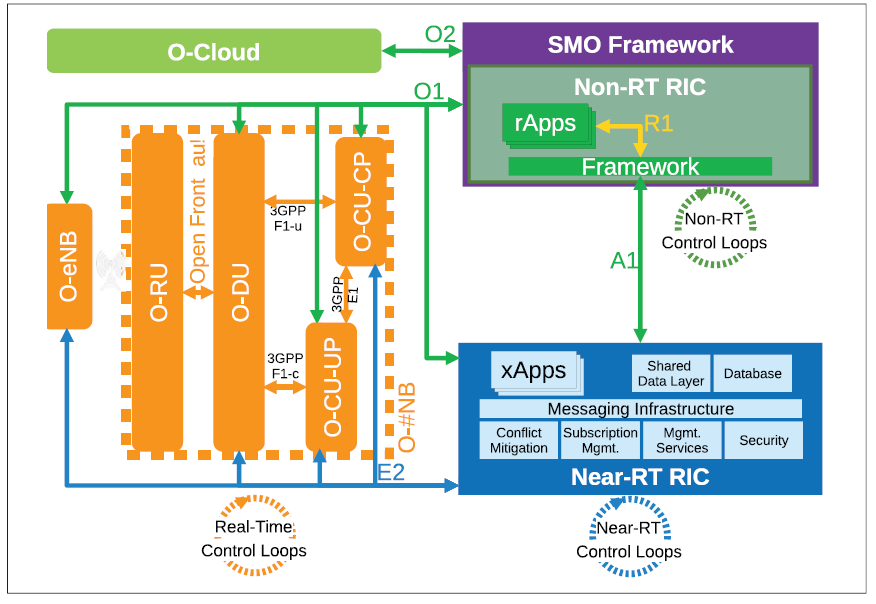 Non-RT RAN Intelligent Controller (Non-RT RIC)
A Non-Real Time RIC is an Orchestration and Automation function described by the O-RAN Alliance for non-real-time intelligent management of RAN functions. The primary goal of the Non-RT RIC is to support non-real-time radio resource management, higher layer procedure optimization, policy optimization in RAN, and providing guidance, parameters, policies, and AI/ML models to support the operation of near-Real Time RIC functions in the RAN to achieve higher-level non-real-time objectives. Non-RT RIC functions include service and policy management, RAN analytics, and model training for the near-RealTime RICs.
So The Non-RT RIC is part of the Service Management and Orchestration (SMO) Framework, centrally deployed in the service provider network, which enables non-real-time (> 1 second) control of RAN elements and their resources through specialized applications called rApps.
Near-RT RAN Intelligent Controller (Near-RT RIC)
Near-RT RIC is a logical function that enables near-real-time optimization and control and data monitoring of O-CU and O-DU nodes in near-RT timescales (between 10 ms and 1 s). To this end, near-RT RIC control is steered by the policies and assisted by models computed/trained by the non-RT RIC. One of the main operations assigned to the near-RT RIC is radio resource management (RRM).
The Near-RT RIC controls RAN elements and their resources with optimization actions that typically take 10 milliseconds to one second to complete. It receives policy guidance from the Non-RT RIC and provides policy feedback to the Non-RT RIC through specialized applications called xApps.