📗 CPRI is standardized by the Common Public Radio Interface forum with the first specification in 2003 with some features
It is based on functional split 8 (Split E in eCPRI Specs.) between RF and Physical layer which means the legacy one.

It covers user plane data, control plane transport

mechanisms, and means for synchronization.

The transport has a TDM structure with a constant bit rate and scale with the number of

antenna

branches and supported antenna bandwidth in the air.
So that means CPRI is working on a fixed bit rate and doesn't support the #dynamic flexibility based on the needed use case like 5G technology requires.
Now let's understand the eCPRI and how it's more suitable for 5G.
📗 eCPRI specification is Packet-based and works on Functional Split with the first specification in 2007
The functional splits determine the Fronthaul capacity

requirements and with what parameters the Fronthaul bandwidth

scales => That means it's flexible based on the use case.

The Fronthaul bandwidth scales with real active user data.

eCPRI gives the radio access network more flexibility and, by leveraging industry-standard technologies like Ethernet and 1588v2(

PTP

) synchronization, enables a reduction in Fronthaul costs.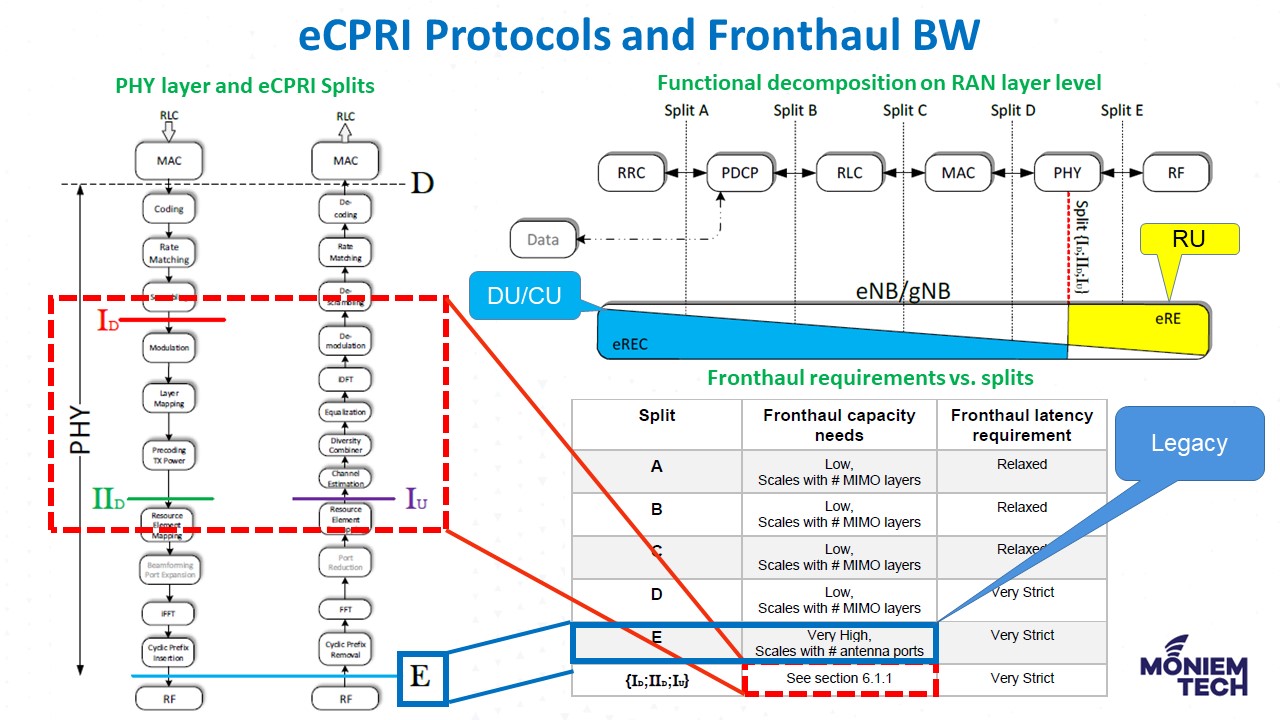 Conclusion 
🧾 The eCPRI interface enables flexibility as it is depending on the functional split between DU and RU) of the required bandwidth and in addition, the required bandwidth can scale flexibly and proportionally with user plane traffic.
🧾 eCPRI enables the efficient use of Packet-based transport technologies like Ethernet which can carry other traffic as well as eCPRI traffic.
🧾 eCPRI Fronthaul requirements depend on MIMO layers, not the antenna ports which reduce the Capacity Bandwidth requirements.
For more details:
https://lnkd.in/dBytbnQF