Option 2 allows 5G deployments in areas without 4G coverage but there will be many areas where only LTE or 3G can be used. Voice calls, which start in 5G, therefore, need to be handed over to 4G or 3G to create a seamless voice service experience for the end-user.
Let's look at the voice call handover from 5G to 4G.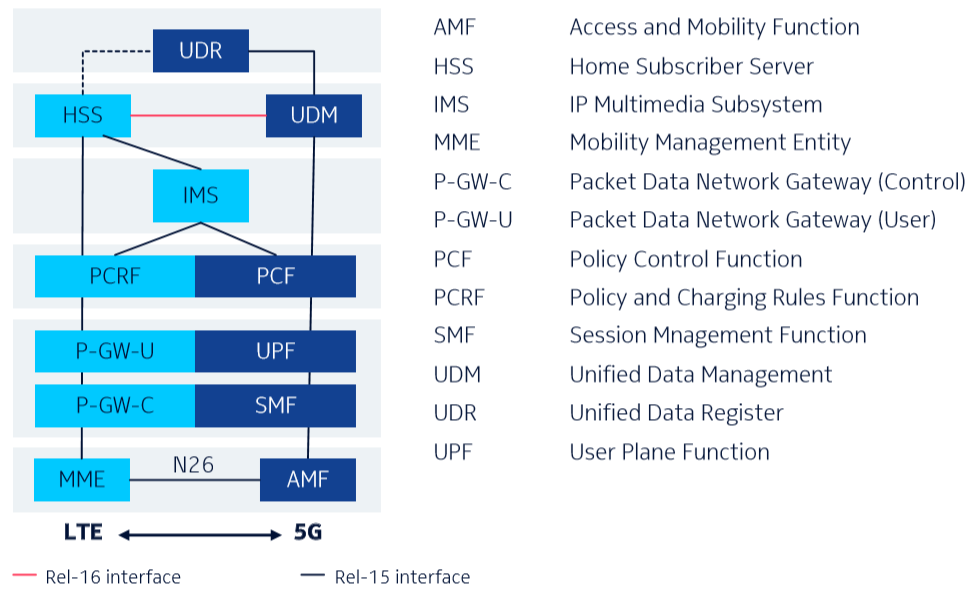 The voice call handover from 5G to 4G is supported through 'combo-nodes' or 'combo-gateways' (ComboGW), which provide both 5G core network and EPC functionality and interfaces. From an IMS perspective, the combined SMF/Packet Data Network Gateway (PGW) provides IP address continuity during the handover between 5G and 4G.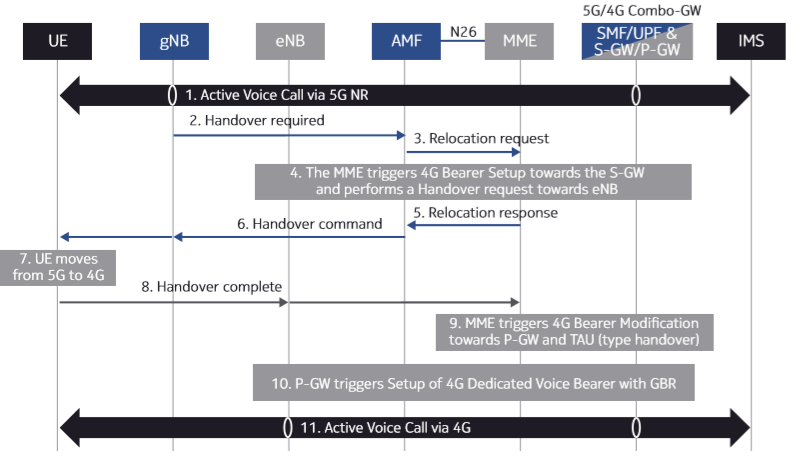 The

UE

has an active voice call ongoing over 5G and is reporting the signal strength of the neighboring 4G cells to the gNB.
The handover decision is made by the gNB, upon which the gNB indicates this to the

AMF

in step 2 of the figure.
The

AMF

then informs the

MME

, which triggers three things: first, the setup of a 4G bearer used later for the

IMS

Signaling traffic, second the setup of a 4G bearer used later for the voice media.
And third, the Handover request to the

eNB

such that the eNB can allocate the required 4G radio resources.
Once this is completed, the

AMF

sends a Handover Command in step 6, which, when received, triggers the

UE

to move from

5G

to

4G

radio.
The

UE

confirms this by sending Handover Complete to the eNB, which immediately notifies the MME.
The MME then still needs to complete the bearer setup, by using a bearer modification requests sent towards the P-GW. This completes the voice call handover and all IMS signaling and voice traffic is afterward carried over

4G

radio and core.
Note that in Rel-15, there is no support for voice call continuity between 5G and 3G Circuit Switched (CS). This implies that the Rel-15 mobile network using VoNR in Option 2 must also support IMS/VoLTE to allow calls to continue in 4G when the user moves beyond 5G coverage during an active voice call.
However, 3GPP Release 16 (Rel-16) will add support for enhanced Single Radio Voice Call Continuity (eSRVCC) from 5G to 3G CS.
Source: Nokia