Network Data Analytics Function (NWDAF) is a 3GPP standardized cloud-native microservice that calls upon other 5G SAmicroservice functions inside the network core to provide the data that can become operational intelligence relative to the current and future state of the network.
NWDAF controls the flow and management of network data from three perspectives:
Network Operational Status:

NWDAF is network-aware and can interface with various control or data plane network functions to collect events that could be of interest for analysis. It also monitors all parts of a configured network service for compliance with relevant service-level parameters.

Does the service perform according to planned expectations?

Are there conditions causing points of concern?

What are the suggested steps for corrective actions as a whole or for a particular network function?

Device Connectivity Behavior:

Insight concerning how a device (smartphones or purpose-built IoT devices) works on the network can be noted.

Is a device configuration compatible?

Is a device connecting to the network?

If the device is to remain stationary, does it remain stationary in operation or is it moving?

If

moving, is the device progressing at a planned rate? If not, is the device acting irrationally according to historical patterns?

End-to-End Service Experience:

Understanding the quality of an E2E service connection and reporting of data to the respective operations and monetization systems is essential. This includes the SLA manager, service assurance function, and rating/charging function.

Is the experience within accepted SLA tolerances?

Does the service satisfy customer expectations (human and/or machine)?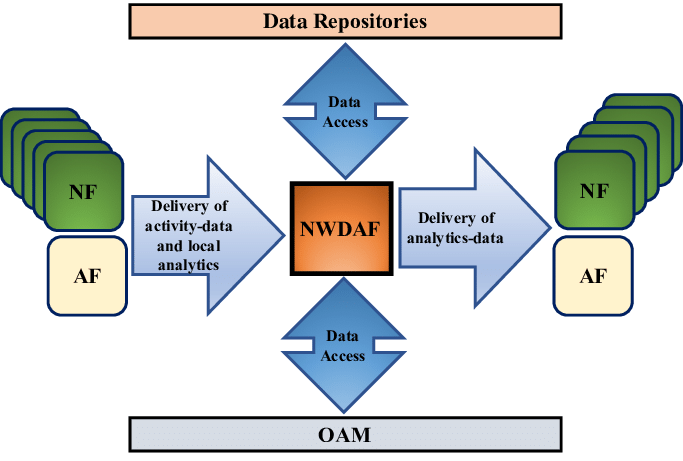 A purpose-built standalone Network Data Analytics Function uniquely designed in accordance with 3GPP specifications to provide a fully standards-based 5G analytics capability. 
Reference: Opnet