Wi-Fi 6 and 5G Convergence
Wi-Fi 6 and 5G expand opportunities for digitization across all industries
They

offer complementary functionalities. The user experience is concerned, and 5G and Wi-Fi 6 can achieve gigabit speeds and low latency.

They

introduce the new era of wireless access. Their convergence enables organizations to do business anywhere while increasing productivity and offering the best user experience. 

They

offer exciting opportunities to connect more mission-critical IoT devices reliably via wireless, around 152K
the number of connected IoT devices per second by 2025 as per Cisco.

They

will also offer enhanced mobile broadband for immersive experience via augmented and virtual reality.

They

will co-exist and work better together to support different use cases, as they bring a promise of dramatically better performance to consumers, mobile workers, and organizations. 

They

are built from the same foundation as They both provide higher data rates to support new applications and increase network capacity to connect more users and devices.

Wi-Fi 6 and 5G Differences 
Wi-Fi 6 is a type of local area network (LAN) used primarily indoors—for example, inside a home or workplace. Like the 5G networks used by major operators, cellular networks are a type of wide-area network (WAN) used both indoors and outdoors, generally over long distances.
Wi-Fi 6 will continue to be the access choice for indoor networks, With improvements in speed, latency, and higher density of connected devices, Wi-Fi 6 is ideal for indoor enterprise networks and It's also an ideal system in areas where access points will serve more users, such as stadiums and convention centers.

5G

will be the designated choice for outdoor networks, 5G hasn't fully rolled yet. However, the early business cases


include fixed wireless, connected cars, drones, and smart cities make it the preferred method for outdoor networks.

Wi-Fi 6

is optimized for

capacity and density

whereas

5G

is optimized for

coverage

.

Wi-Fi 6

uses unlicensed spectrum, However,

5G

and LTE networks typically are managed by operators and use a dedicated, licensed spectrum that requires subscription fees to access.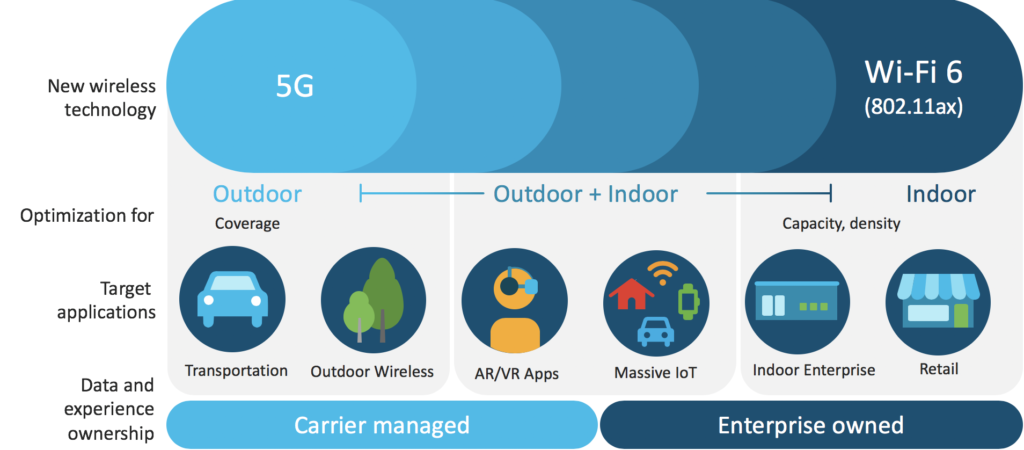 Conclusion
5G offers such an enormous boost in performance, service providers can offer consumers another choice in bringing broadband connectivity to the home: wireless broadband through 5G. In this area, 5G may compete with cable or fiber offerings.
However, Wi-Fi will remain the most efficient way to connect the growing number of devices throughout the home, including PCs, tablets, smartphones, smart speakers, home security cameras, thermostats, and appliances.