Carrier aggregation (CA) is one of two schemes included in 3GPP Release 15 that enables sending a duplicate of data across different carriers. CA allows for the use of the spectrum that is larger than the maximum channel bandwidth.
Carrier aggregation is a technique used to increase the data rate per user, whereby multiple frequency blocks are assigned to the same user.

Dual connectivity (DC) enables the UE to separately receive 5G and LTE signals and then aggregate the streams. it aims to utilize the radio resource within multiple carriers to improve UE throughput.
In 5G Non-Stand Alone (NSA) architecture, the best way to increase the throughput without investing more money for purchasing new 5G Core, LTE eNodeB, and 5G gNB are used at the same time to increase the throughput.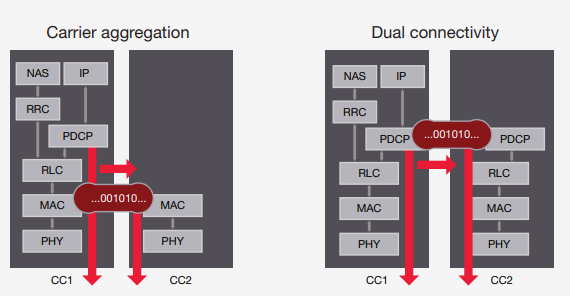 Source: Keysight