Dynamic Spectrum Sharing (DSS) allows both 4G and 5G to dynamically share the same spectrum, reusing existing 4G radios (e.g., antennas). With DSS, mobile operators can swiftly expand 5G coverage while eliminating the need for new spectrum allocation for 5G.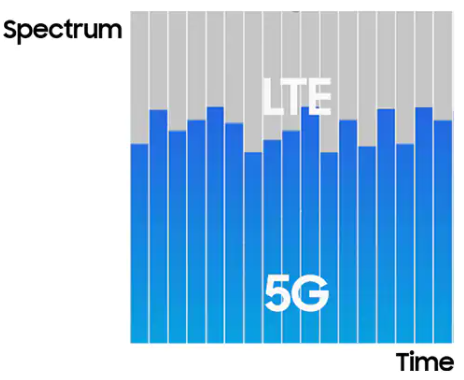 DSS dynamically assigns time-frequency resources between 4G and 5G according to their respective traffic demands to accommodate both users, while optimizing resource utilization. In the current early stages of 5G, DSS is advantageous in that it only allocates the required amount of resources for 5G users, and retains the remaining resources for 4G users. As the demand for 5G grows over time, DSS can allocate more resources to 5G services.
DSS also enables both 4G and 5G to be simultaneously deployed and co-exist in a single carrier. By accommodating both 4G and 5G users on the same spectrum with dynamic resource allocation, the DSS solution can effectively maximize operational efficiency and offer a smooth transition from 4G to 5G for operators. 
DSS Benefits
As per Samsung, The primary advantage of DSS is that a smooth migration from LTE to NR is possible, along with the following
key aspects.
Rapid deployment of 5G services using existing-based deployment.

Co-existence of LTE devices and standalone (SA) NR devices.

Effective utilization of valuable low/mid-band spectrum.