vRAN transforms the RAN from hardware-specific to software-based run on general-purpose servers. It is the evolution from vendor-specific, purpose-built baseband technologies to general-purpose platforms run by software.
In legacy RAN systems, each cell site had a Baseband Unit (BBU), which sent data to and from the site's Radio Units (RUs) and the core network. The BBU was a proprietary piece of hardware of fixed capacity.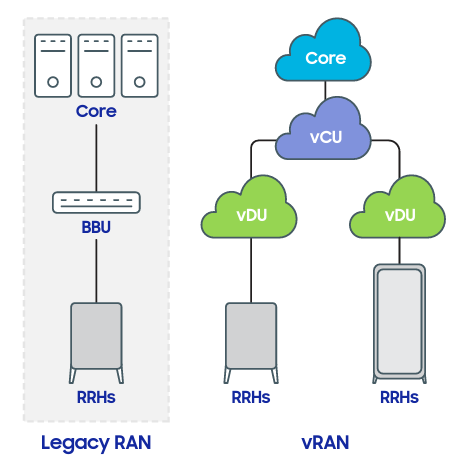 Disaggregating the functionality of the BBU provides multiple benefits to operators, which has led the industry to develop vRAN, replacing the custom-built BBU with software-based components.
vRAN uses the centralization concept by shifting from dedicated DU and CU hardware to vDU and vCU on COTS hardware. It is a software solution that runs on commercial-off-the-shelf (COTS) x86 servers, which are used as general purpose processors, allowing operators to pick vendor-agnostic servers and platforms. By using these generic COTS servers, when upgrading to higher capacity servers, the existing servers can be redeployed for use in running other applications such as Core, Multi-access Edge Computing (MEC), and IT applications.
Other operational advantages of vRAN come with the fact that hardware accelerators can easily plug in without replacing the hardware. Thus, there's no need to purchase or replace the existing server. By combining all of these benefits, vRAN reduces the total cost of ownership for the operator. 
Now, The question is What is the Difference between vRAN and Open RAN? 
The answer is in this article.