Introduction 
The investigation of the 5G cellular network has been triggered by the great growth of wireless data services driven by mobile Internet and smart devices. The new 5G mobile networks are expected to be deployed around 2020.
Several multimedia applications with a huge variety of needs will have to be supported by 5G networks. These needs include higher peak and user data rates, enhanced indoor coverage, reduced latency, improved energy efficiency, etc.
5G Converged Architecture
5G promises ubiquitous wireless coverage.
Radios leveraging licensed and/or unlicensed spectrum, small cells, macro LTE eNodeBs, fiber, microwave, leased Ethernet, or satellite backhaul will be considered when offering services.
Given the service performance requirements, it is possible that not all services will be available in all areas of ubiquitous coverage.
It will be crucial to maintain continuity, as devices change locations consistently and move between several types of networks.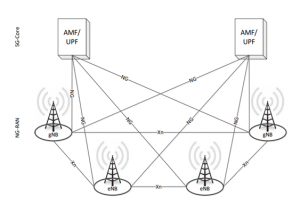 The 5G-RAN will include both a 5G New Radio (currently being called a (gNB) and/or LTE Radios (eNBs) connected to the Next Generation 5G Core (NG Core). 
The gNBs and/or eNBs provide the user plane and control plane protocol terminations towards the UE. 
5G Architecture Options
In the 5G discussions, there are Two

Radio

technologies that have to be considered: 
LTE (in its Rel-15 version).

Next-generation Radio ("

NR

")
Also in the 5G discussions, there are Two

Core

Network concepts that have to be considered:
EPC (with potential evolution)

Next Generation Core ("

nGCN

")

5G Core Network
The

architecture of

5G NGC

is known as "service-based" and the interaction across network functions are represented in two manners:
          – Network functions in the 5G Control Plane (5GC).
          – Network functions connected to the 5G Control Plane through the RAN network.
Network Functions within the 5G CP

will only utilize service-based interfaces for their interactions. Unlike LTE architecture where all of the core has a reference point representation, this will be different.

Within the Radio and User Plane (UP), reference point interfaces will continue to be.

Along with SBA, two other recent concepts have been included: Network Slicing and Control Plane/User Plane (CP/UP) split.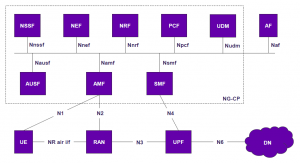 CORE NETWORK FUNCTIONS
#Authentication Server Function (AUSF)
Contains mainly the EAP authentication server functionality.

Storage for Keys Core.
#Access and Mobility Management Function (AMF)
Termination point for RAN CP interfaces (N2).

UE Authentication & Access Security.

Mobility Management (Reachability, Idle/Active Mode mobility state handling).
#Data Network (DN)
          o  Operator services.      o Internet access.          o 3rd party services.
#Network Exposure Function (NEF)
Whenever services or Application Functions (AF) access 5G Core nodes, it provides security.

It is considered as a proxy or translator into the Core Network or API aggregation point.
#NF Repository Function (NRF)
Gives profiles of Network Function (NF) examples and their supported services in the network.
#Policy Control Function (PCF)
Estimated to bear some resemblance with the existing policy framework (Policy and Charging Rules Function – PCRF) in 4G.

Upgrades to include the newly-added 5G standardized mobility-based policies.
#Session Management Function (SMF).
Idle/Active aware.

UE IP address allocation & management .

Policy and Offline/Online charging interface termination. 
#Unified Data Management (UDM)
Expected to have similar functionality as the HSS in Release 14 for the Evolved Packet Core (EPC).
#User Plane Function (UPF)
Allows several configurations that are crucial for the reduction of latency in 5G.

Anchor point for Intra-/Inter-RAT mobility.

External IP point of interconnect.

Packet routing and forwarding.

QoS handling for User Plane.
#Application Functions (AF)
Services considered to be trusted by the operator .

Can access Network Functions directly or via the NEF.
4G to 5G Networks : Expected Evolution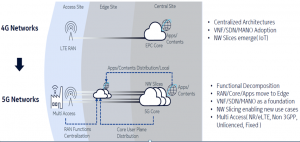 Summary
• 5G will address enhanced Mobile Broadband (eMBB), Ultra-Reliable Low Latency
  Communications (URLLC) and massive Machine Type Communications (mMTC).
• 5G requires a new network architecture.
• The functional decomposition of the RAN results in DU and CU network elements.
• Next Generation Core network can be defined through two functional blocks CPF and UPF.
• Some RAN functionality will go towards the core while the core will go towards the RAN.
• Small cells are an essential component of 5G.
• URLLC is an overlay and needs will change based on use cases.
#References : 
3GPP TR 23.501 

Nokia.

5G on the horizon: Key challenges for the radio-access network," IEEE Vehicular Technology Magazine.

Towards converged 5G mobile networks – Challenges and current trends.