Introduction:
As the standardization of 5G at the first stage has been successfully completed, 5G networks will be put into commercial use. When deploying 5G networks, carriers have to think about the factors of different 5G network deployment options, this is in addition to the expansion of 5G network coverage and maturity of the terminal ecosystem.
Despite the fact that data services drive 5G evolution, voice/video communication services are still considered significant services of carriers. How to provide voice/video communication services must be first determined for 5G commercialization, just like in 4G networks. 
Towards Vo5G:
Voice over 5G (Vo5G) will be realized through the extension of certain existing infrastructure, such as IP Multimedia Subsystem (IMS), and introduction of new hardware and software, such as millimeter wave-based 5G radio frequency equipment, also known as 5G New Radio (5G NR). Vo5G will take advantage of Voice over New Radio (VoNR), ultimately replacing Voice over LTE (VoLTE) as the preeminent technology for voice communications, and causing further displacement of 3G systems.
What Is Vo5G?
3GPP has specified that 5G utilizes the 4G voice/video communication architecture and still gives voice/video communication services based on the IMS. LTE is the 4G radio access technology, and accordingly, the voice/video over the LTE network is called "VoLTE". NR is the 5G radio access technology, and the voice/video over the 5G network is known as voice/video over NR (VoNR). Thus for IMS voice/video communication services, VoLTE and VoNR are different access modes.
VoLTE is the target 4G network voice/video solution. Global carriers have experienced the evolution from CSFB to VoLTE with the expansion of 4G network coverage and maturity of the terminal ecosystem.
5G Voice Solution Options:

As shown in the preceding figure, in addition to VoNR, the voice/video communication solutions EPS fallback (EPS FB), RAT fallback (RAT FB), and voice/video over eLTE (VoeLTE) (Note 1) need to be applied by utilizing the 5G CN.
These solutions are not defined in the 4G era. Therefore, VoNR cannot represent all 5G voice/video communication solutions. The industry needs to use Vo5G to summarize all 5G voice/video communication solutions. Vo5G should include VoNR, VoeLTE, EPS FB, and RAT FB.
Recently, Huawei released the Vo5G Technical White Paper. Huawei analyzed Vo5G solutions in various 5G networks and gave directions for 5G voice evolution based on the evolution of Vo5G standard and the voice/video codec standard. Moreover, it states that deploying the IMS and accelerating the commercial use of VoLTE is the only solution to develop towards Vo5G.
According to the white paper, Vo5G has been standardised with the standard process of 3GPP 5G, and Vo5G must be provided based on IMS. VoLTE will be the main voice network in the 5G time, and working with Vo5G is to ensure the continuity of voice services. 
Vo5G Market by IMS Functions Solution Type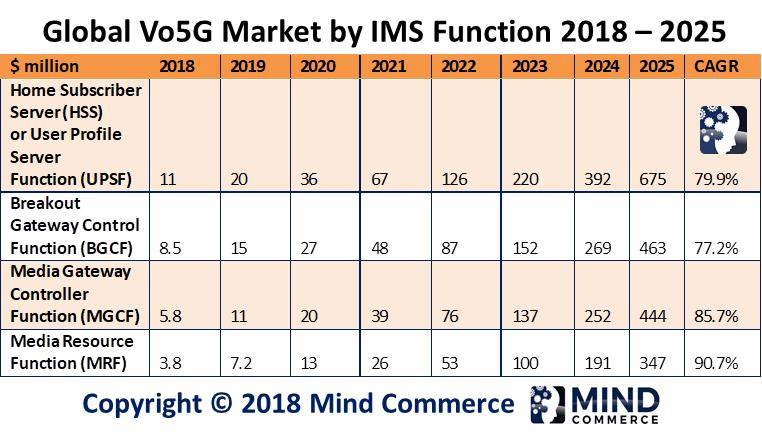 Check "Mind Commerce Vo5G Market Report" for more details. Also, you can review Huawei White Paper.