5G MENA is one of the largest talked-about events in the MENA region that focuses on advancing and commercializing 5G networks. This year it was held in Jumeirah Beach Hotel, Dubai, from 7 to 9 April 2019.
It was my first time to attend this event and it was very interesting and informative experience. 
This time the event started with "Focus Day" (the first day) with the title "Telco AI Focus Day" to focus more on the AI for Telcos, the new AI technologies, and what is the relationship between 5G and AI?
My Talk: Preparing the Network for 5G and AI
My Agenda for the day covered four points, firstly I talked about "How date fuels the smart Era". Then, Is 5G revolution or evolution? And the action steps for preparing 5G NW. Next, what is the impact of AI and its importance for Telco? And Finally, I concluded the speech with the relation between 5G as a new technology and AI.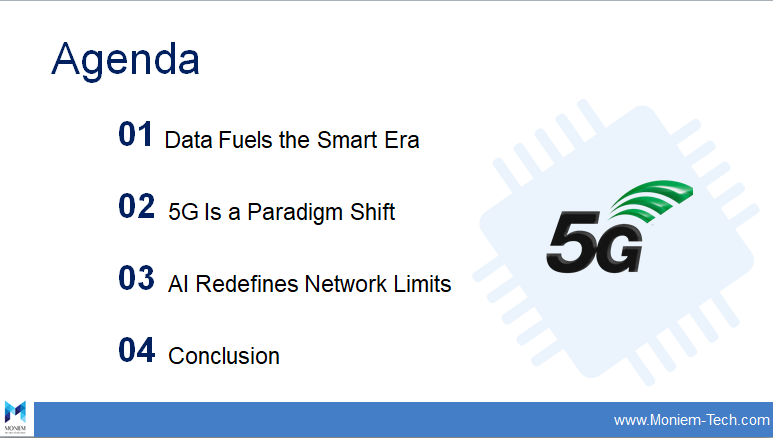 Data Fuels the Smart Era
The currency of the future isn't hard cash – it's data. In this future, every company around the globe will either buy or sell data as this asset continues to gain attention and value. 
But, it's not enough to have access to vast amounts of data; you need to understand it and how to use it.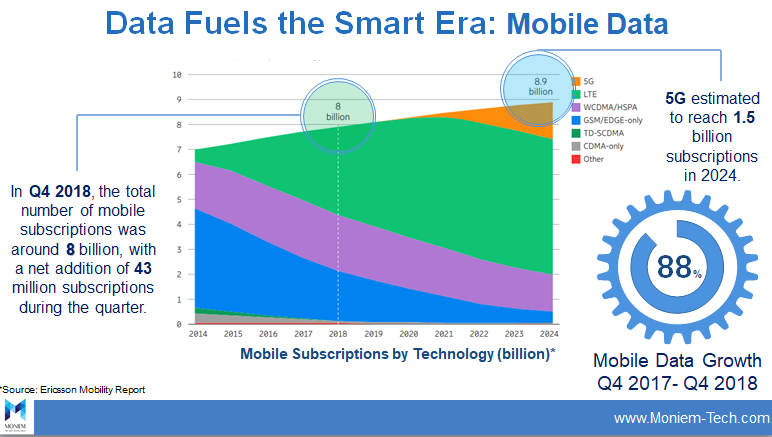 If we talk specifically about telco, we need to focus on Mobile Data. A huge leap in 2018, in Q4 2018, the total number of mobile subscriptions were around 8 billion, with a net addition of 43 million subscriptions during the quarter and 88% mobile data growth from Q4 2017 to Q4 2018.
Ericsson experts foresee that "5G is estimated to reach over 1.5 billion subscriptions in 2024"
And for MENA Region, Mobile data traffic forecasting to grow 9 times from 2017 to 2019.
5G will represent 6% of the total traffic and the Subscriber penetration will increase to reach 69% in 2025.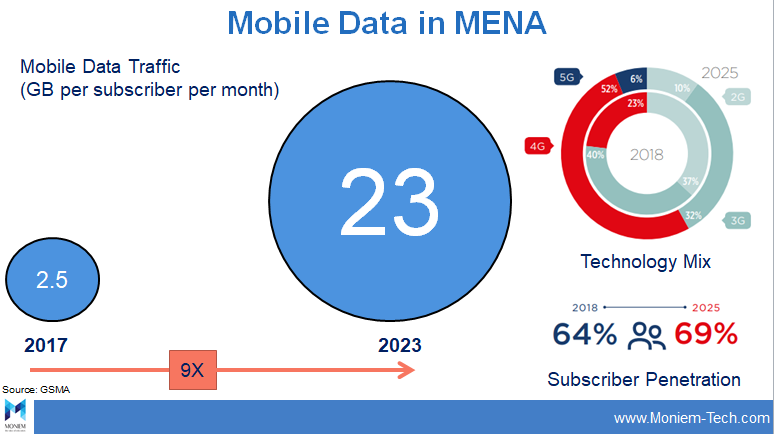 5G Is a Paradigm Shift
With 5G, Evolution Meets Revolution as it enables the Evolution and powers the revolution.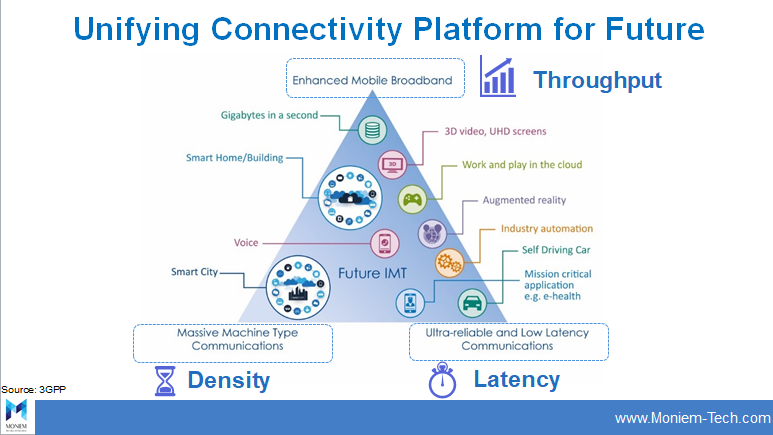 In fact, 5G will create new opportunities through new capabilities from high bandwidth, ultra-low latency and a massive number of connections.
5G will support three use cases:
1- eMBB : Enhanced Mobile Broadband
VR and AR.

Hologram Technology.

HD Video Conferences and HD Video Surveillance.

HD Video Streaming.
And this will drive the need for high capacity – high throughput.
2- Ultra Reliable and Low Latency Communication
The Critical Communications main use cases are delay sensitive applications.
Examples of Critical Communications are:
Autonomous cars.

Remote Surgeries.

Industrial Automated Manufacturing Process.
3- Massive Machine Type Communication or mIoT
The next evolution of IOT is "massive IOT", where tens of thousands of devices are simultaneously connected in a single cell sector. Other use case examples are:
Alarm detector monitoring.

Consumer Wearables – fitness monitoring.

Transit Service monitoring.

Inventory level monitoring.
5G Key Technologies

I talked here about the most important 5G Key technologies that improve the throughput, reduce the latency and support more use cases.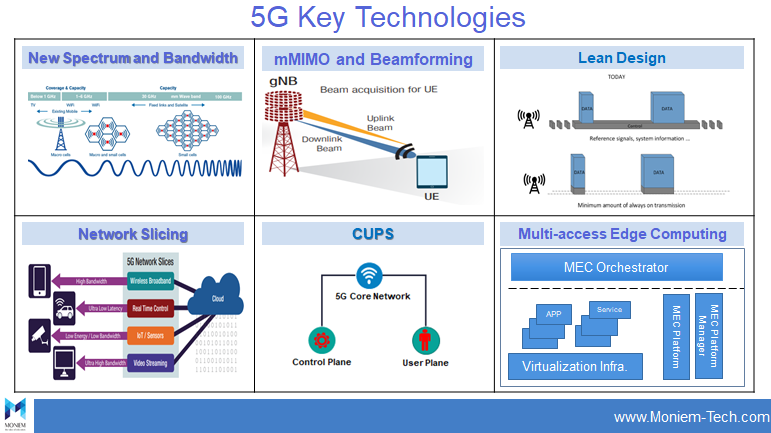 And finishing the 5G part with the action steps to prepare the 5G network.
Action Steps to Prepare 5G Network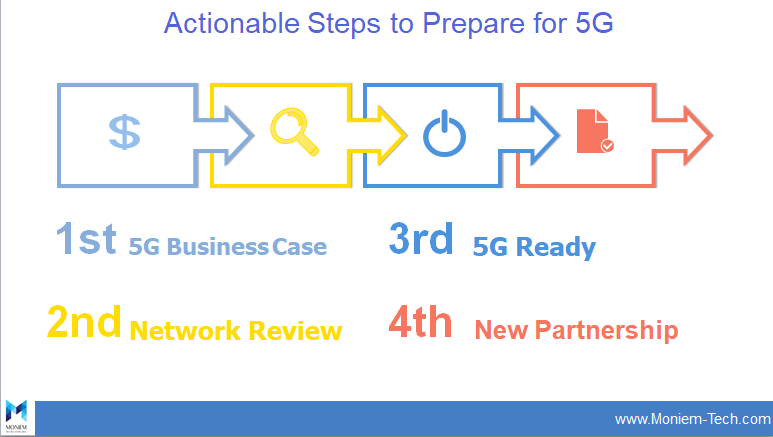 Step 1: 5G Business Case

Since 5G will impact every part of the business and must be considered from every angle.
So understanding these use cases is necessary before we can begin designing 5G.
Operators should study well these use cases, develop corresponding customer offers and business cases, and develop the ecosystem necessary to take the offers to prospective customers.
As this will impact the network architecture options, Spectrum Band, Bandwidth, area natural and terminal penetration.
Step 2: Review of Current Network
Operators need to review their current network architecture and evaluate their current network coverage with all their RAN technologies and understand the current capacity limitations of their mobile core and RAN networks.
Understanding the gaps and limitations of existing wireless networks is becoming a necessity as existing networks are enhanced in preparation for the 5G era.
To minimize deployment time and costs, operators should reconsider their processes, digitizing and automating them more than ever.
Step 3: 5G Ready
It is vital step in 5G success,
As Spectrum will be the life-blood of 5G. However developing a spectrum strategy will be more complicated for 5G, as it may support both licensed and unlicensed spectrum. So operators will need to move quickly to formulate a strategy that improves the whole spectrum.
Future network infrastructure is moving to SDN/NFV to provide flexible, and scalable distributed networks. The move from legacy network-based networks to virtualized solutions requires a change in mindset.
Key requirements on the supporting transport network in the 5G era include significant capacity and scalability.

5G ready architecture doesn't necessarily mean specialized equipment required for 5G. In many cases, it's a network architecture shift that is required to support 5G in the future.
4-Get Ready for a New Relationship
As 5G supports different use cases, operators need to switch from B2C model to B2B model to make partnership with different vertical industry sectors like engineering, public safety, design, retail, logistics and field services.
In B2C market, operators offer services such as high definition video directly to the end consumers.
In B2B market, operators offer services such as mobility solutions to the businesses (SMEs, large corporations) where the services are typically consumed by the employees of the business.  
Example: In May 2018, there was a partnership between Telefonica and Netflix to integrate Netflix's service into Telefonica's TV and video platforms in Europe and Latin America.
AI Redefines Network Limits
In simple words, AI is the field of study where researchers and engineers search for ways to make machines perform human tasks or even better.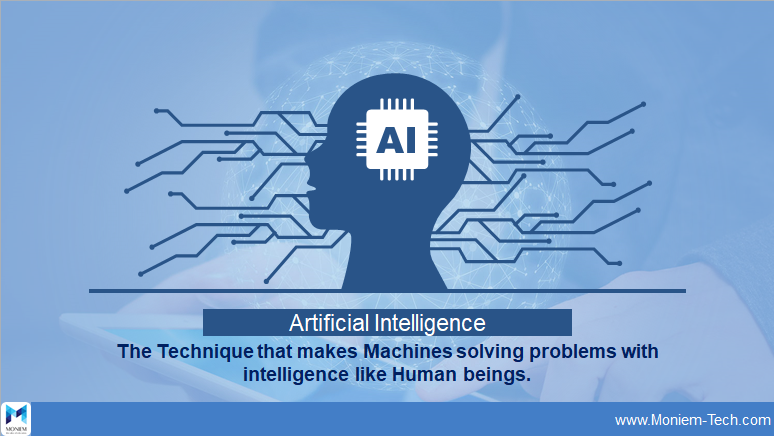 Why Is AI a Huge Part of the 5G Story?
Conclusion:
Then I concluded my talk with this quote: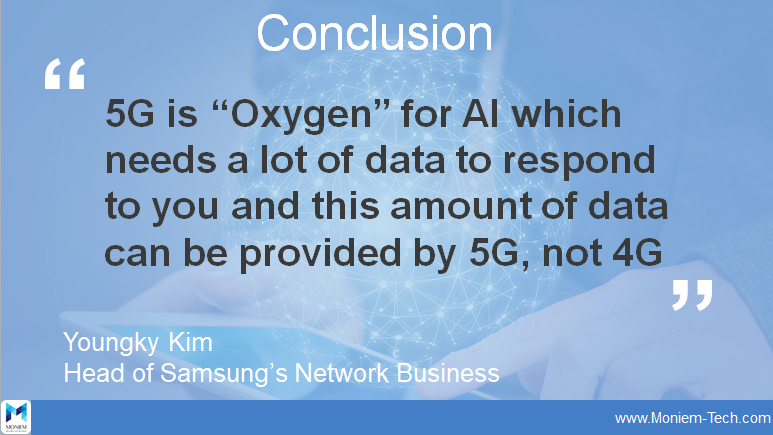 For the full presentation and more details, please contact me at moniem@moniem-tech.com