Release 16 is designed to be an 18-month project that wraps up at the end of 2019. The three key performance indicators for 5G are faster peak rates (the enhanced mobile broadband, eMBB), more connections per cell (massive machine-type communication, mMTC), and lower latency (ultra-reliable low-latency communications, URLLC).
Most of Release 15 focused on the eMBB use case. Release 16 focuses more on URLLC to expand the features that 5G enables and to increase the efficiency of the existing feature set.
Release 16 will be "5G phase 2" and will be completed in June 2020 (TSGs#88)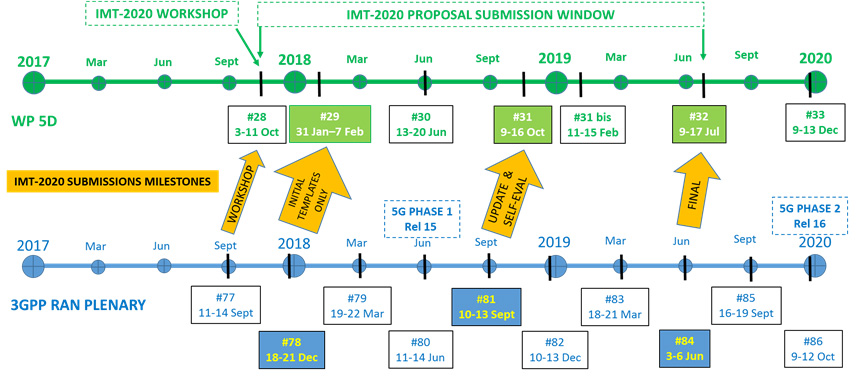 3GPP Release 16 Features
Enhancement of Ultra-Reliable (UR) Low Latency Communications (URLLC).
5GS Enhanced support of Vertical and LAN Services.
Cellular IoT support and evolution.
Advanced V2X support.
5G Location and Positioning Services.
UE radio capability signaling optimization.
Satellite Access in 5G.
Enablers for Network Automation Architecture for 5G.
Wireless and Wireline Convergence Enhancement.
Mission Critical, Public Warning, Railways, and Maritime.
Streaming and TV.
User Identities, Authentication, multi-device.
(Network) Slicing.
Other cross-TSG Release 16 Features.
NR-related Release 16 Features.
Release 16 Features impacting both LTE and NR.
LTE-related Release 16 Features.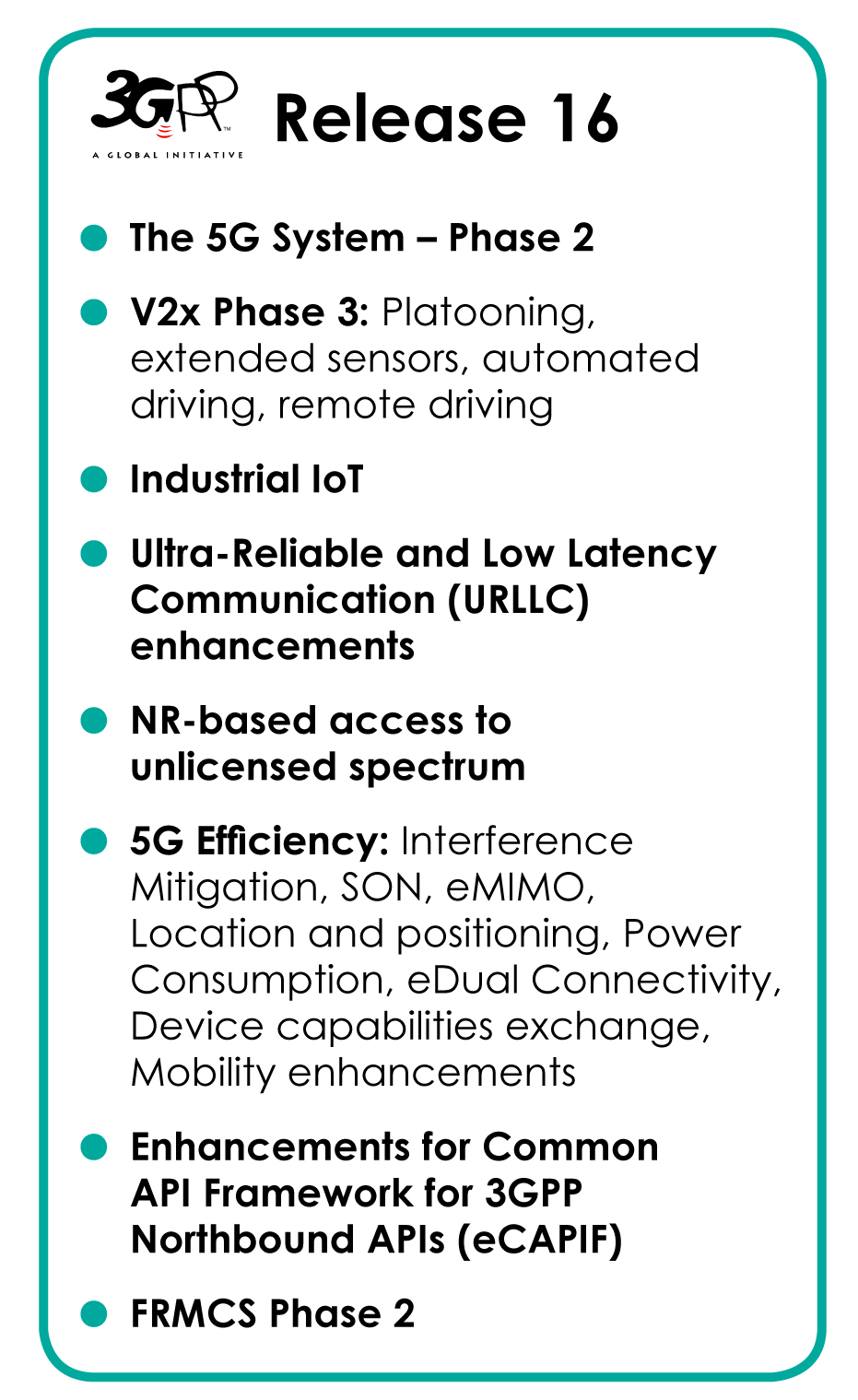 5G NR release 16 enhancements 
The most notable enhancements to existing features in release 16 are in the areas of multiple-input, multiple-output (MIMO) and beamforming enhancements, dynamic spectrum sharing (DSS), dual connectivity (DC) and carrier aggregation (CA), and user equipment (UE) power saving.
MIMO and Beamforming enhancements
Release 16 introduces enhanced beam handling and channel-state information (CSI) feedback, as well as support for transmission to a single UE from multiple transmission points (multi-TRP) and full-power transmission from multiple UE antennas in the uplink (UL). These enhancements increase throughput, reduce overhead, and/or provide additional robustness. Additional mobility enhancements enable reduced handover delays, in particular when applied to beam-management mechanisms used for deployments in mmWave bands.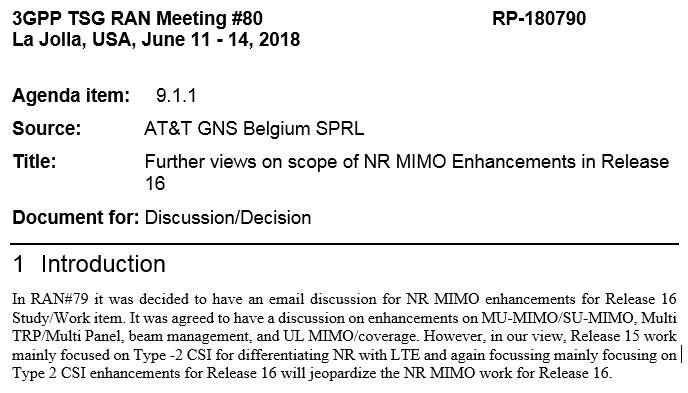 Dynamic spectrum sharing (DSS)
DSS provides a cost-effective and efficient solution for enabling a smooth transition from 4G to 5G by allowing LTE and NR to share the same carrier.
In release 16, the number of rate-matching patterns available in NR has been increased to allow spectrum sharing when CA is used for LTE.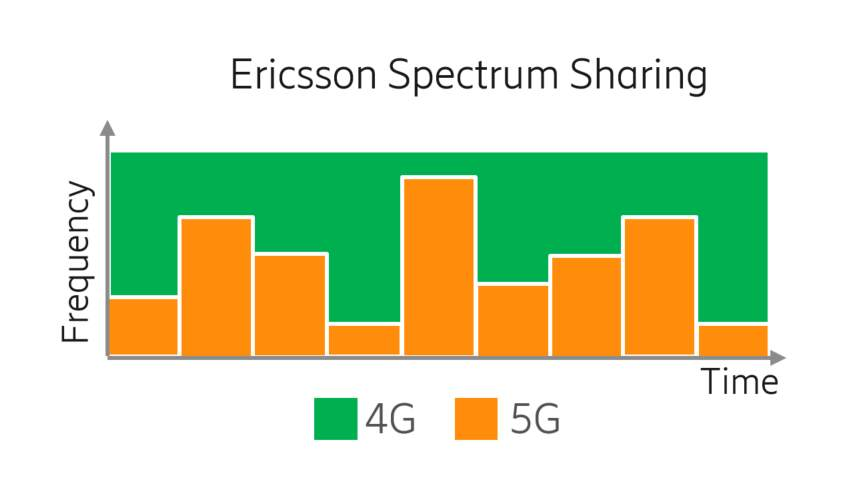 Dual Connectivity (DU) and Carrier Aggregation (CA)
Release 16 reduces latency for setup and activation of CA/DC, thereby leading to improved system capacity and the ability to achieve higher data rates.
Unlike release 15, where measurement configuration and reporting do not take place until the UE enters the fully connected state, in release 16 the connection can be resumed after periods of inactivity without the need for extensive signaling for configuration and reporting. Additionally, release 16 introduces aperiodic triggering of CSI reference signal transmissions in case of the aggregation of carriers with different numerology.




User equipment power saving
To reduce UE power consumption, release 16 includes a wake-up signal along with enhancements to control signaling and scheduling mechanisms.
References:
3GPP Release 16.

IEEE.

Microwavejournal.

Ericsson Technology Review.