FCC approves Wi-Fi 6E, allowing unlicensed use of 6 GHz band for Wi-Fi
Before going to explain WiFi 6E, First, let's remember WiFi 6. Wi-Fi 6 and previous generations of Wi-Fi use the 2.4 GHz and 5 GHz radio bands.
A "Wi-Fi 6E" device is one that is capable of operating on the 6 GHz band, too.
What is Wi-Fi 6E?
The 6 GHz band is the next generation in Wi-Fi. Wi-Fi 6 in 6 GHz, referred to as Wi-Fi 6E will improve the wireless experience. Wi-Fi 6E unlocks the full Wi-Fi 6 feature set to create the next generation of wireless communications and networking.
Up to 1.2 GHz of the new Wi-Fi spectrum will be allocated in the 6 GHz band, which can support up to seven 160 MHz channels. This increase in spectrum bandwidth empowers the newest generation of Wi-Fi 6E devices to achieve faster speed, lower latency, and higher capacity.
In other words, Wi-Fi 6E is Wi-Fi 6 (also known as 802.11ax) over 6 GHz.
What is Wi-Fi 6E Benefit?
More Spectrum > 1 Gbps Speeds

, Up to 1.2 GHz more Wi-Fi spectrum in 6 GHz band.

Fully-Scheduled Traffic < 1 ms Latency

, Guaranteed low latency. No channel contention.

High Capacity Cutting-Edge Devices No legacy device operation in 6 GHz.
Wi-Fi 6E Bands
The 6 GHz spectrum should work similarly to WiFi 6 over 5 GHz but offers additional non-overlapping channels. As the Wi-Fi Alliance puts it, Wi-Fi 6E allows for "14 additional 80 MHz channels and 7 additional 160 MHz channels." These channels wouldn't overlap with each other, which will help reduce congestion, particularly in areas where lots of networks are operating.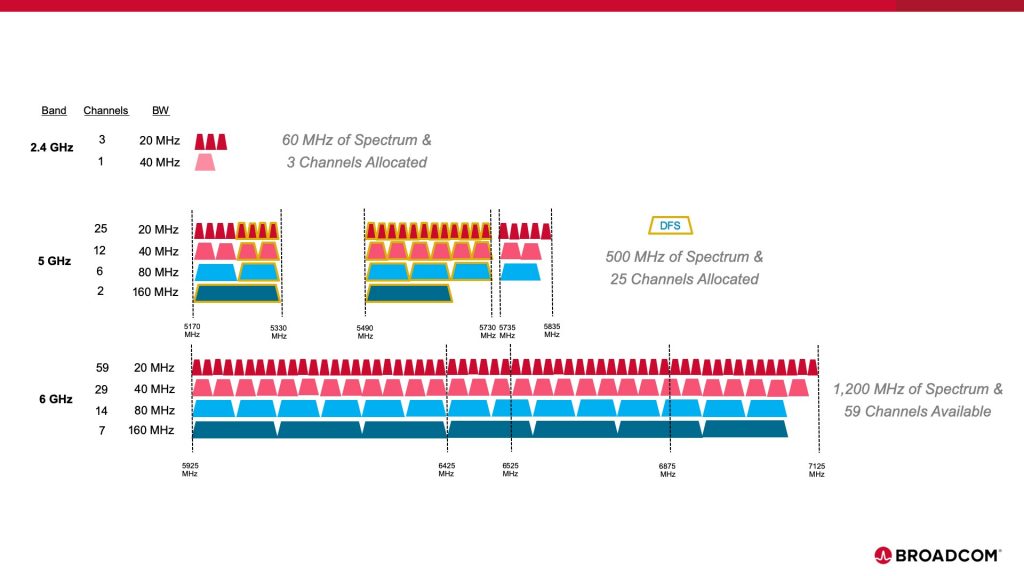 Wi-Fi 6E Use Cases
With numerous 160 MHz channels in the 6 GHz band, Wi-Fi 6E delivers the fastest Wi-Fi yet enabling multi-gigabit low latency connections. These high throughput connections are essential to supporting 5G services and bringing key use cases to life.
Multi-gigabit Wi-Fi venue capacity.

Whole-home gigabit coverage.

High-speed tethering.

Low-latency Wi-Fi calling.

Next-gen experiences with AR/VR.
Wi-Fi 6E Devices and Chips
At CES 2020, Broadcom announced a number of Wi-Fi 6E access point solutions. Broadcom is announcing the BCM4389 client Wi-Fi 6E chipset. Consumers can expect to see the chipset in the next generation of high-end smartphones. We have already covered the advantages of Wi-Fi 6E in terms of lower latency, higher throughput, and the availability of more number of 160 MHz channels in our coverage of the Wi-Fi Alliance announcement at CES.
The BCM4375 is a 28nm chipset with 2×2 2.4 GHz and 2×2 5 GHz support, while the new BCM4389 adds 2×2 6 GHz to the mix. The scanning radio accounts for the additional radio chain.
The BCM4389 builds upon Broadcom's success with the BCM4375, which happens to be the current leading client Wi-Fi 6 chipset in the smartphone market. In addition to the new 6 GHz support with the tri-band simultaneous operation and 160 MHz channel support, the BCM4389 also brings in additional power efficiency, thanks to its 16nm process technology and architectural improvements.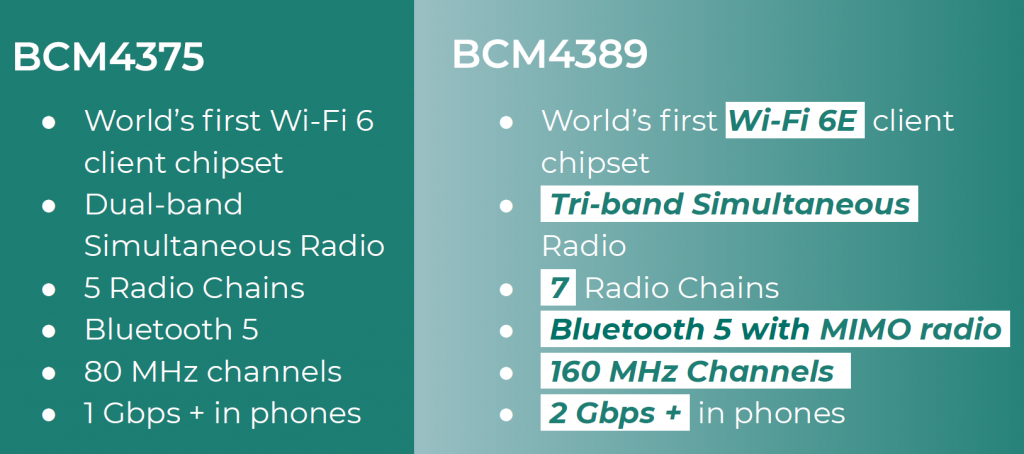 Conclusion
Extending Wi-Fi into the 6GHz spectrum band can provide more Wi-Fi capacity than all the other bands put together. Using Wi-Fi 6 technology in the extended will deliver higher speeds, low latency, and service levels that are equivalent to 5G networks and be able to support the widespread, low-cost, use of advanced business, industrial, and consumer applications."