The mobile industry is currently discussing Virtualized RAN (vRAN) and Open RAN, but it is vital to distinguish between these two concepts because they represent different approaches.
These two initiatives serve different purposes that may often overlap. From a high-level perspective, the two initiatives are described below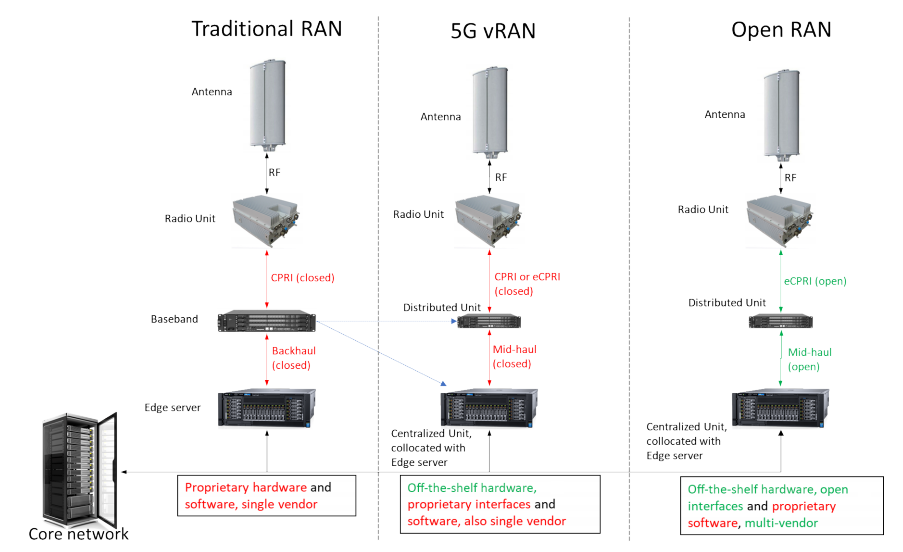 • vRAN
These networks decouple software from hardware and run Radio Access Network (RAN) processing functions on Commercial Off-the-Shelf (COTS) servers. In general, vRAN is about the centralized management of radio resource processing and allows network operators to modularize network functions on COTS servers.
All current vendors are pursuing vRAN strategies to help operators minimize costs. The value proposition of vRAN is to centralize some RAN functions, including the Baseband Unit (BBU), and upper layers of the Remote Radio Unit  (RRU).
By doing so, operators are able to save significant OPEX by reducing site rental and the overall power consumption otherwise needed to power many end-to-end access sites.
• Open RAN:
These networks open interfaces between many components of the mobile network, allowing operators to mix and match between different best-of-breed components of either of these domains. Open vRAN virtualizes several components in the radio domain with the ultimate goal being the physical layer (PHY).
The target for Open vRAN is to rapidly introduce new entrants, increase the flexibility of radio networks, and put the new industry on a sustainable growth trajectory by piggy-backing on the massive IT R&D spend.
This does not mean all parts of radio networks will be virtualized; many will remain on Application Specific Standard Products
(ASSPs), but it is important to introduce the flexibility of virtualization to the radio domain. This is the domain of new entrants and smaller companies.
Although the vRAN concept does introduce efficiency gains and cost savings, it does not necessarily
disrupt the current infrastructure supply chain because existing vendors can virtualize their product lines.
There are vital differences between vRAN and Open RAN, the most important of which is the innovation that Open RAN will introduce in the telco value chain. vRAN will also introduce new features and enhance the efficiency of network rollouts, but Open RAN fundamentally alters the mobile infrastructure value chain in a way that mirrors the diversity of suppliers and speed of innovation that redefined the PC market several years ago.
Source: API Research