Ericsson Mobility Report provides industry-leading projections and analyses of the latest trends in the mobile industry, including subscription, mobile data traffic, and population coverage. Our forecasts are based on past and current data, validated with extensive network measurements. Read the report to learn about the latest figures for 5G, IoT, fixed wireless access, and more.
5G is Here and Happening
The most interesting insights from the report: 
By the end of 2020, 5G population coverage is estimated to reach

15 percent

, equivalent to over 1 billion people.
5G subscriptions are forecast to reach

3.5 billion

in 2026.
Fixed wireless access (FWA) is on the rise –

200 service providers

have now launched FWA services.
As of Q3 2020,

1.7 million connections

are served across the US by FirstNet – built and managed by AT&T.
Fast, multiplayer interaction games require

20–30ms end-to-end network latency

, with very high reliability in both uplink and downlink.
Today,

69 percent of quality-led service providers

have launched 5G for smartphones commercially.
5G New Radio (NR) functionality is Accelerating
5G adoption is growing in momentum in both the network and device domains:
Over

150 5G device

models launched commercially, including iOS-capable devices.
Many devices supporting 5G frequency division duplex (FDD), most capable of

dynamic spectrum sharing (DSS)

.
First

StandAlone (SA)

network launches in Asia and North America.
First chipsets and devices with NR

Carrier Aggregation (CA)

capability.
First

5G-capable devices

with retail prices at USD 300 for sub 6GHz outside China and USD 400 for a device with mmWave support in the US.
New device chipsets for

mmWave spectrum

bands will lower the price points for these devices.
2020 is the year of new NR functionality
During 2020 the pace of 5G introductions has accelerated, with many network developments including: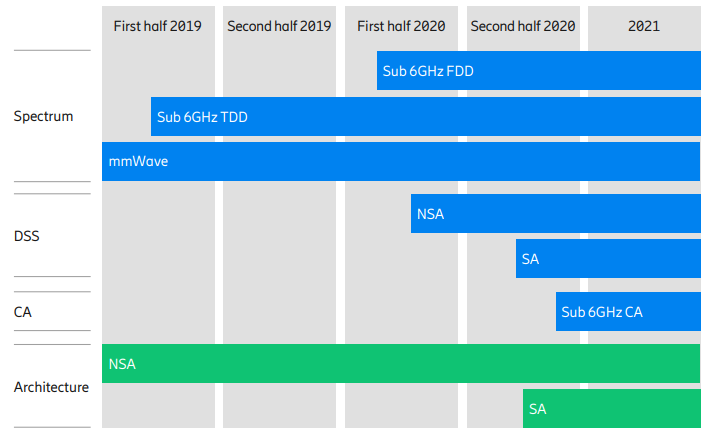 mmWave




Increased competition in the mmWave space has led to the first devices with a retail price of around USD 400. With more competition in the chipset arena, there will also be new entry models for devices supporting these frequency bands. More than five top-tier smartphone vendors now have mmWave-capable phones.

Non-standalone (NSA) is no longer standing alone




5G SA networks have now been launched in North America and China. Devices have been upgraded via software updates to enable SA capabilities in applicable markets. Since networks can serve both NSA and SA users in the same cell, devices can choose between NSA and SA access.

CA on NR




In NSA, the first level of aggregation is provided by combining an LTE with an NR bearer. The next step is combining




two or more NR carriers. This feature will provide a significant increase in time division duplex (TDD) coverage. Mobile




broadband data rates can thereby be further boosted where an additional TDD spectrum is available. 
Global mobile data traffic (EB per month)
In 2026, 5G networks will carry more than half of the world's mobile data traffic.