RAN slicing builds on existing 5G network investments to facilitate the creation of next-level services for enterprises and mobile broadband (MBB) end-users while guaranteeing the fulfillment of service level agreements (SLA).
In the era of 5G, efficient solutions are needed to address simultaneously services that need high bandwidth and services with low latency or ultra-reliability. Network slicing accommodates several independent logical networks for different business needs and SLA requirements while running on shared physical infrastructure. A network slice spans the radio access network (RAN), core network, and transport network.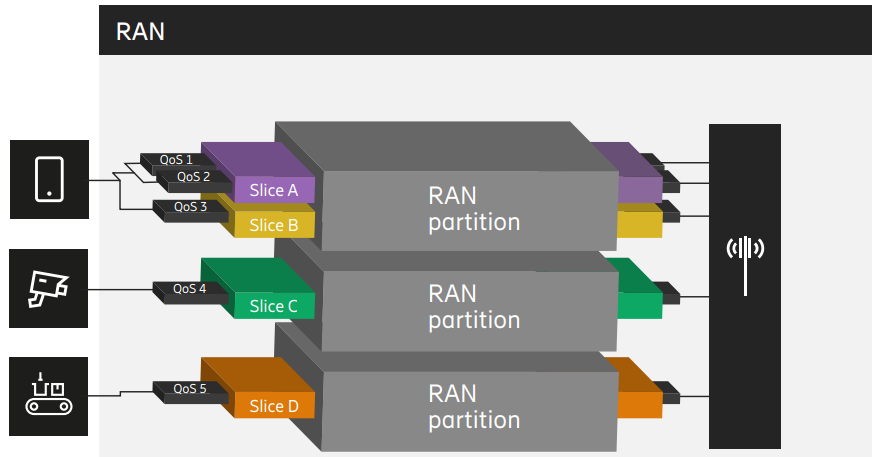 The solution allows for the effective use of radio resource partitioning, quality of service, and slice orchestration functionality. This way, service providers can deliver 5G slicing use cases for enterprise and MBB to drive innovation in smart manufacturing, healthcare, and online gaming.
What benefits can RAN slicing bring?
RAN slicing facilitates differentiated handling for bespoke slices. It does so by building on flexible and scalable slicing architecture that dynamically shares finite radio access network resources. Proactive service providers can choose RAN slicing to offer customized services addressing diverse business requirements with reduced risks, increased flexibility, and agility.
From a RAN perspective, end-to-end network slicing provides further means for allocating and prioritizing the limited resources available in RAN. It also offers the possibility of selecting RAN functions in situations with multiple users and groups of users, running multiple services in accordance with the objectives of the operator.
Source: Ericsson