This is the last update for the 5G Commercial Live Network in the Middle East till 25th, May 2021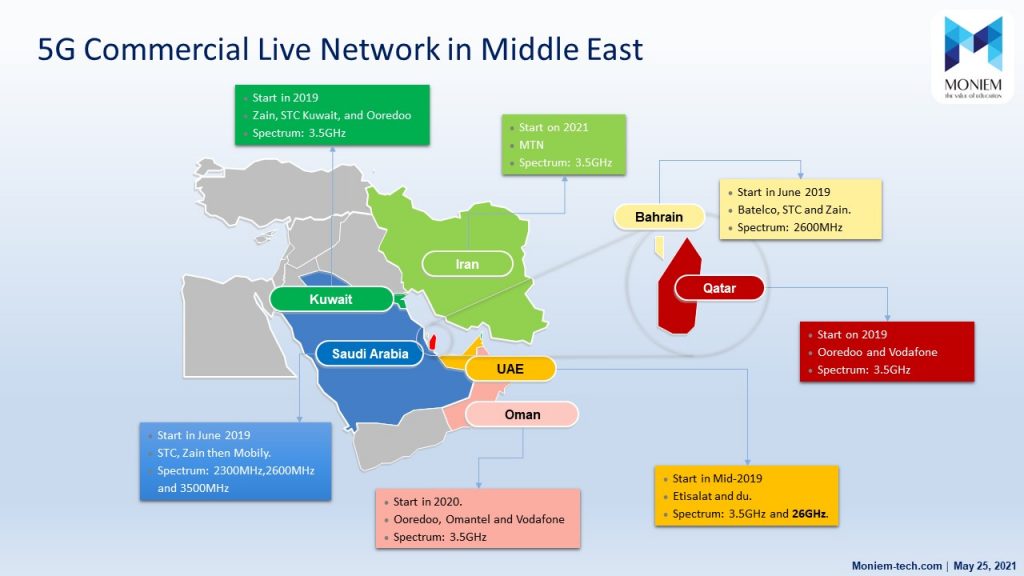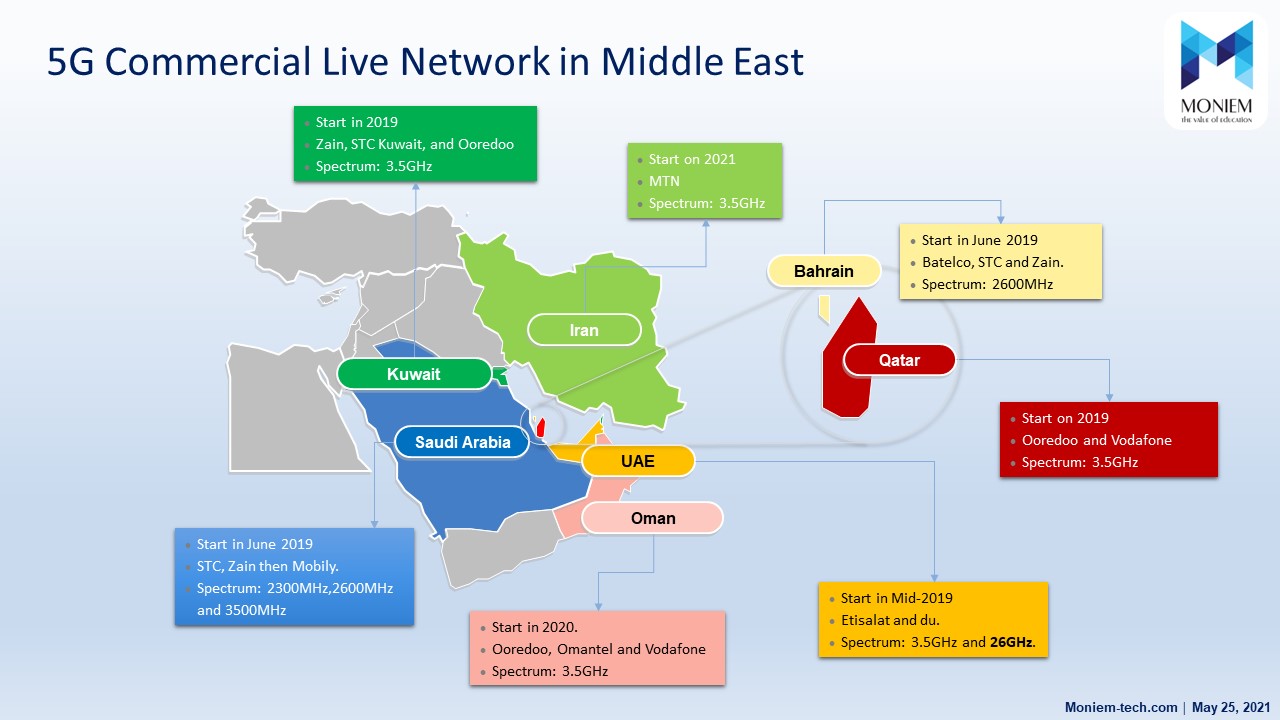 Let's see the status of 5G Live Commercial Network in the Middle East
Saudi Arabia: In June 2019, STC became the first operator to launch 5G commercial services in Saudi Arabia. Zain's 5G network also went live in June but commercial services were launched in October 2019. As of November 2019, the Communications and Information Technology Commission (CITC) in Saudi Arabia allocated a total 290MHz spectrum in the 2300MHz and 2600MHz bands to STC, Mobily, and Zain for provisioning of 5G and 4G services in January 2019. CITC also awarded Zain with a 15 years license starting from January 2020 for using 100MHz of spectrum in the 3500MHz band for 5G services.
United Arab Emirates: Both Etisalat and Du in UAE launched 5G services during the middle of the year 2019. The UAE's Telecommunications Regulatory Authority (TRA) has allocated a spectrum in the 24.25GHz-27.5GHz range for 5G wireless services and this makes the UAE the first country in the Middle East with a live millimeter wave (mmWave) 5G network.
Oman: Oman's Telecommunications Regulatory Authority (TRA) issued a 5G roadmap in October 2019. 5G licenses to the country's three major MNOs – Omantel, Ooredoo, and Vodafone-issued by the regulator in October 2019. Omantel initially launched its home broadband FWA offering in December 2020 and followed this up with 5G mobile services in February 2021 and Ooredoo Oman launched its 5G Home Internet plans.
Qatar: Despite launching a pre-standard 5G based fixed wireless access (FWA) in 2018; Ooredoo Qatar began offering commercial 5G mobile services only in Mid 2019, following the launch of 5G handsets like Huawei Mate 20 X, Samsung S10 5G, etc. On the other hand, Vodafone Qatar launched a 5G residential broadband service in April 2019 and announced the availability of mobile services in August 2019. Also, Ooredoo 5G covers 90% of populated areas in Qatar.
Bahrain: Batelco and STC launched commercial 5G networks in Bahrain in June 2019. STC offers 5G FWA home broadband as well as smartphone bundled plans. Meanwhile, Zain is upgrading its network infrastructure and could launch the service commercially in 2020. and on June 2020: Zain Group announces that its mobile operation in Bahrain has launched 5G commercial services.
Kuwait: The Communication and Information technology Regulatory Authority (CITRA) issued 3.5 GHz licenses in May 2019. The country's three major telecom operators – Zain, STC Kuwait, and Oordeoo launched commercial 5G home broadband services in June 2019. Immediately in July 2019, all three operators also rolled out 5G mobile services and announced the availability of monthly 5G smartphone packages.
IRAN: The Iranian government finalized the plans for an auction of 3.5GHz spectrum to support 5G cellular services on Feb 2021 and Iranian mobile network operator (MNO) MTN Irancell has launched the country's first commercial 5G service, though it is currently only available in one area of Tehran.