Although the request for data services is the primary driver behind the growth and evolution of 5G, voice service is still an indispensable part of mobile communication network.
The Voice over New Radio (VoNR) feature provided in 5G is similar to VoLTE in 4G. VoNR is a voice solution based on IMS in 5G SA architecture. In VoNR, a UE camps on the 5G network, and both voice and data services are provided on the 5G network with gNB and 5GC.
When the UE moves out of NR coverage, inter-RAT handover is initiated, and VoLTE is provided in the LTE coverage area instead. In the early stages of 5G, a network may not support the VoNR feature if the VoNR feature has not yet been deployed on a SA architecture network, or if the network is deployed with a NSA option 3 architecture and lacks 5GC.
In NSA mode with EPC, VoLTE is used for voice service using LTE while data is served by NR. However, in SA mode, VoLTE is not supported. As such, to provide a continuous voice service when a VoLTE call moves to a 5G SA network, the 3GPP has defined voice fallback features.
There are two types of fallback features in 5G 
Evolved Packet System (EPS) fallback and RAT fallback.
In EPS fallback

, if a UE tries to use voice services in a 5G network that does not support VoNR, gNB redirects or performs a handover to the LTE network, and consequently the UE is able to use voice services via VoLTE. After the voice session is terminated, the UE can move back to the 5G network.

RAT fallback

is similar to EPS fallback except that the UE falls back to the eLTE network controlled by the 5GC during the voice session.
The below figure from (Samsung Whitepaper, 5G_SA_Architecture) shows a comprehensive voice service solution for a seamless continuity within a mobile communication network. VoNR is only feasible in NR deployments equipped with 5GC and gNB. Therefore, an operator needs to utilize VoLTE service and maintain EPC for continuous voice service until VoNR is available. As an alternative to 5G voice solution for areas that do not support VoLTE and VoNR, 5G-Single Radio Voice Call Continuity (SRVCC) can be provided for a continuous voice service by UMTS Terrestrial Radio Access Network (UTRAN).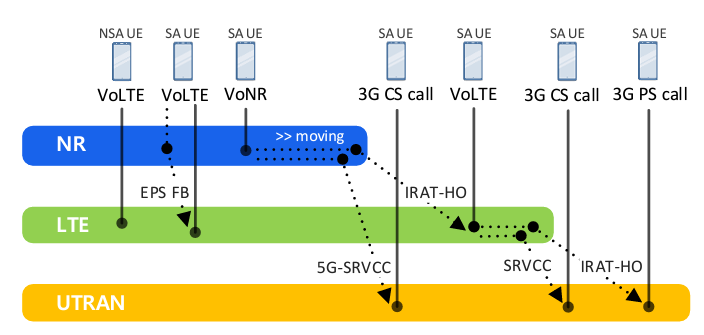 Note:
Regarding 5G wireless access, CSFB (Circuit Switched FallBack) , SRVCC (Single Radio Voice Call Continuity), and 3G handover are not requested.