My telecom journey started 13 years ago in the access domain which more specifically we can call it RAN or Radio Access Network which mainly focuses is more towards Air interfaces including spectrum, RF elements, site components, RAN features, interfaces, protocols, …etc.
However, in the last 7 years, I have seen a huge shift from the RAN domain towards the Transport domain. This was obvious when 2G (BTS & BSC) and 3G (NodeB & RNC) were combined into one node in 4G (eNodeB) and then backhaul to the Core network or the EPC.
Then, in the last 4 years, 5G came up with the RAN disaggregation concept followed by centralized RAN and then vRAN and OpenRAN.
Now, all RAN engineers should have good knowledge and experience in the transport domain from fronthaul calculation, dimension, interfaces, HW/cloud, and edge switches to #fiber and #microwave differences. How do they calculate the site capacity that will impact the transport network from fronthaul, midhaul, or backhaul?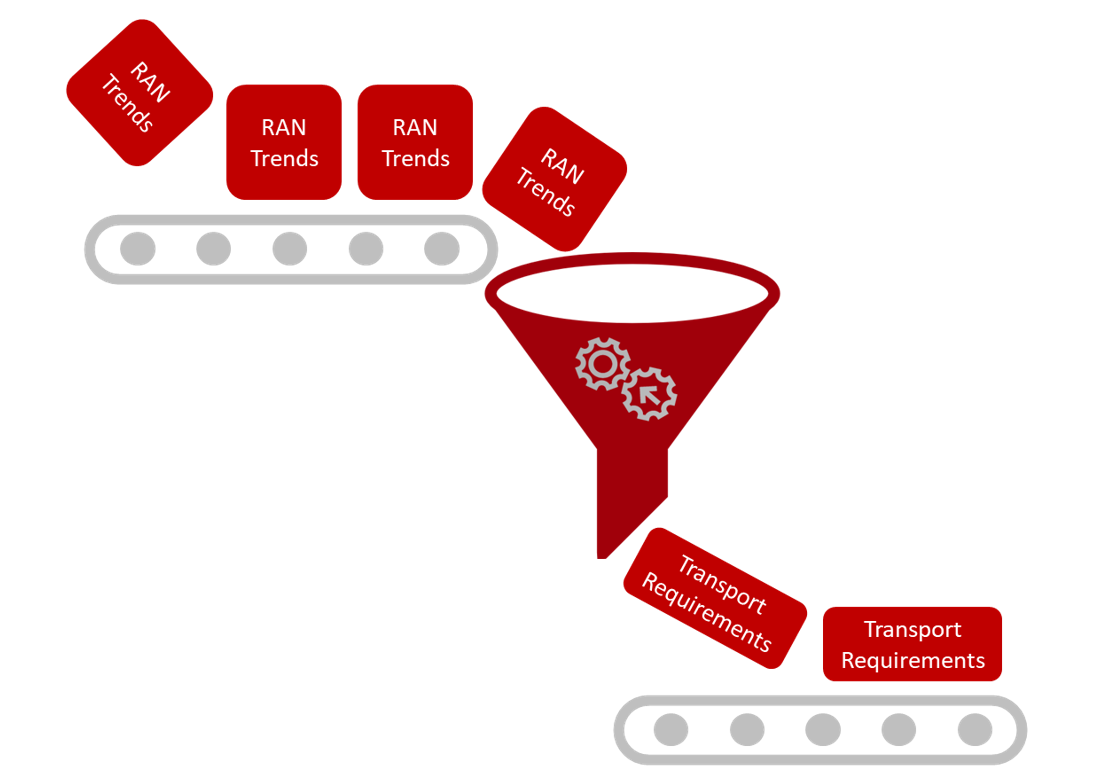 Some Important Transport Points should be considered for the RF Engineer
Both fiber and microwave transport options can be suitable for 5G. Microwave can meet the capacity needs for some 5G deployments, and has rapid deployment (hours, in many cases), usually at a fraction of the cost of fiber trenching. It is ideal for hard-to-reach locations in busy urban areas and over mountains, and highways. While it is difficult to generalize where to use each transport option, MNOs prefer to deploy #fiber where they can and microwave when fiber simply cannot be deployed, which will especially be the case for 5G networks. 
With new technologies, including MIMO, CA, large-capacity E-band, and combination of common-band with E-band, implemented, Microwave bandwidth will support 10 Gbps to meet the 5G requirements. As per Ericsson, Modern microwave backhaul can already comfortably handle up to 20 Gbps.
Microwave transport is actually 48% faster than fiber-optic, all other things being equal it's hard to get any faster than the speed of light
Centralization is the RAN trend that most directly impacts transport. The promise of substantial cost savings and performance improvements from splitting RAN processing and pooling resources into Centralized Units (CUs) and Distributed Units (DUs) has brought centralization to the forefront of #RAN_planning discussions.
Fiber replaces copper which is lighter, more power-efficient, and supports far longer distances with higher transmission rates to centralize multiple #BBUs or DU from different sites into one location. However, fiber can be too expensive or difficult to deploy in certain scenarios.
The same frequency band can be used by 5G NR and microwave backhaul, as long as they are licensed and controlled.