5G can be significantly faster than 4G, delivering up to 20 Gigabits-per-second (Gbps) peak data rates and 100+ Megabits-per-second (Mbps) average data rates. 5G has more capacity than 4G. 5G is designed to support a 100x increase in traffic capacity and network efficiency. 5G has lower latency than 4G.
1G, 2G, 3G, and 4G all led to 5G, which is designed to provide more connectivity than was ever available before. 5G is a unified, more capable air interface. It has been designed with an extended capacity to enable next-generation user experiences, empower new deployment models, and deliver new services. With high speeds, superior reliability, and negligible latency, 5G will expand the mobile ecosystem into new realms. 5G will impact every industry, making safer transportation, remote healthcare, precision agriculture, digitized logistics — and more — a reality.
" 5G is growing faster than anticipated and has reached subscription levels no previous generation has achieved "
ABI Research calculates the number of years a new generation takes until it reaches 100 million and 1 billion subscriptions, which can act as a metric to compare different generations along the same axis.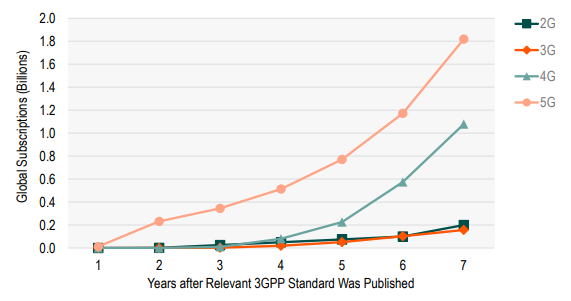 As can be seen from the figure, 5G is growing faster than previous generations and has reached 100 a million subscriptions in less than 2 years after the standard was published, when the closest generation was 4G, which reached the same mark 5 years after the standard. Moreover, 5G is expected to reach 1 billion subscriptions in 2023, 5 years after it was standardized, while 4G reached the same target after 7 years.
Reasons for the Success of 5G in the Market
Supply chain maturity: The cellular supply chain has reached high levels of efficiency with tight collaboration between chipset Original Equipment manufacturers (OEMs) and the handset and infrastructure manufacturers, as well as all component providers.

Device availability

: 5G devices were developed in a rapid manner and the first smartphones were ready less than 1 the year before the 3GPP standard was published. Mid-tier smartphones followed a year after, making the 5G business case a success.
Infrastructure vendor: capabilities: Infrastructure vendors created high-performance, high-efficiency equipment on a large scale, also less than 1 year before the standard was published. mMIMO antennas that enabled beamforming are an engineering leap ahead.

Market demand:

Long Term Evolution (LTE) and LTE-Advanced created the foundation for 5G and the market demand for high-quality mobile broadband. Today, 5G provides a significant capacity boost compared to previous generations.
All these reasons and numbers are good, however, I have one concern to be considered, the main point here is that 4G is likely to remain the dominant mobile technology for now. As 4G coverage is in excess of 80% in most countries and is forecast to reach over 90% by 2025.