Introduction 
The December 2017 deadline for the primary set of New Radio (NR) technical specifications, known as early drop out/December acceleration, was finally achieved.
– This acceleration was originally motivated to be updated with proprietary fixed wireless access solutions in mmW.
– The early drop out scope is limited to Non Stand Alone (NSA) NR, i.e., Dual Connectivity (DC) with LTE
– No great impact on L1/L2 is predictable before phase 1 finalization (or NR Rel. 15) arranged for June 2018 including SA and NSA NR.
– To cope with the workload RAN1 meetings have dramatically expanded in terms of number of delegates (up to 600 RAN1 delegates), number of contributions submitted (up to 2800 contributions) and parallel sessions
(2 NR and 3 LTE-A pro) with plenty of disorganized offline sessions.
5G is a whole lot more than just a new interface and network update. It is an essential modification in network architecture that needs major preparation to guarantee easy implementation and maximum outcomes from the first day.
NR Phase 1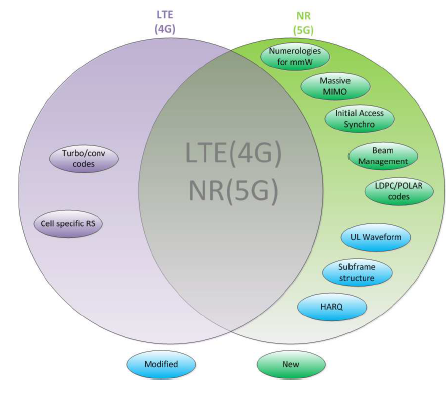 NR phase 1 has many concepts and techniques as the same as LTE since the principle of CP-OFDM based waveform and OFDMA multiple access remain the same.

NR phase 1 allows the degrees of modifications of the MAC/PHY

layer of LTE in order to cater for 


–

A wide range of services

(eMBB, URLLC, and mMTC).
–

Higher frequencies

(mmW).
–

Wider bandwidth

(CA up to 16 CCs).
–

Higher number of antennas

(Massive MIMO).

The main levers (phase 1) considered to answer the ambitious

objectives of 5G (originally set by the METIS project)


– More

bandwidth

, more

antennas

, more

base stations


– Issues:

cost, acceptability

by the public.
Why should operators care about it now?
There are some reasons operators care about them and here I am viewing some answers from experts worldwide: 
The rewards of being first to market are huge. The route to 5G success is to plan the use cases and




your business strategy well in advance.

The more ready you are before the launch of 5G, the higher the chance you will fulfill your

goals. However, this preparation will be completely different than anything that has gone before since it starts

with the setting of business targets, not technology considerations.

With 5G, it is mainly about the use cases and business's strategy – these are the goal aspects and

thus it is crucial to plan ahead. There will be several opportunities to submit

new services, but they all have different requirements.

Business leaders feel strongly about 5G's promise: 92 percent think 5G's ability to protect sensitive data is important, while 91 percent value its potential to deliver ultra-high reliability. And about 70% percent are worried that without 5G technology, their country will be out of competition globally.
Conclusion
LTE is developing in the road to unlicensed spectrum and IOT use cases.

Is 5G just the next generation?

No: It is a paradigm shift!

5G method in industry: 1- define use cases, 2- needs, 3- explain more technologies/solutions.

From cell-centric (2-4G) to user-centric or application-centric in 5G.

From link to system efficiency (2G – 4G) in 5G (RAT defined per app).

From antenna connectors (2G – 4G) to over air interface testing in 5G (antenna arrays, beamforming).

Increasing demand for security and high reliability in 5G.
References: 
www.3gpp.org/DynaReport/38-series.htm.

www.Nokia.com 

www.ericsson.com